Winter Travels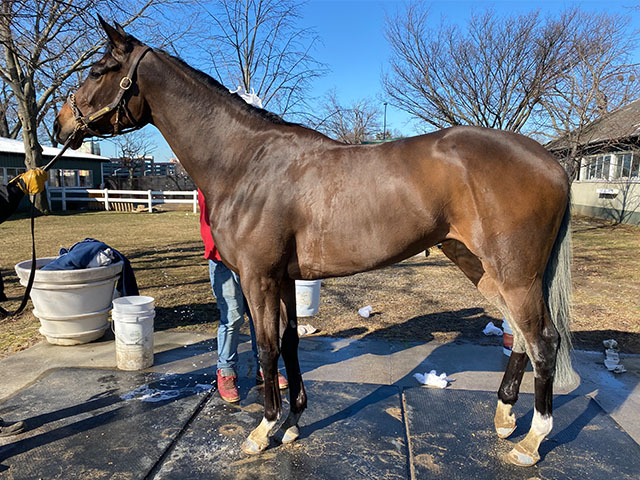 November through the first of April is the time of year where I split my time between New Orleans and New York. The New Orleans division is much smaller than the one in New York and is made up predominantly of younger horses and turf horses. The Fair Grounds presents an opportunity for some of the turf horses who have had lighter campaigns to continue running and allows some of the younger horses to train in a more favourable climate.
Tell Your Daddy and Locally Owned are both back in New York and training nicely. Locally Owned ran in the Breeders' Cup Marathon back in November and perhaps the air quality didn't suit him as he disappointingly had an exercise-induced pulmonary hemorrhage (EIPH) during the race. He went to Fair Hill following the race and underwent several hyperbaric chamber treatments before returning to us at Belmont. We are tentatively looking at the Flat Out Stakes, the first dirt marathon of the year run in New York, scheduled for May 6. There is also a possibility that Keeneland may have an Allowance going 11 furlongs during their spring meet, which would set us up nicely for a New York campaign.
Tell Your Daddy breezed five-furlongs in 1:01.05 on February 17 and has one more important work to do before he jumps on a plane to California to run in the Gr. 1 Frank E. Kilroe Mile, slated for March 5 at Santa Anita; John Velasquez will have the mount. The six-year-old gelding by Scat Daddy has been training extremely well since he returned from his winter holidays and will work a maintenance half-mile this Thursday before he flies out. I'm keen to get him there at least a week before the race as there will be a temperature change between Los Angeles and New York. In general horses tend to do better going from hot to cold rather than cold to hot, therefore I think it's important he get plenty of time to acclimatize; I don't want to arrive in California right on top of the race for him to find it's 85 degrees and struggle with the heat. His coat quality is fantastic, however, and doesn't look like he's spent the winter in New York.
I'm really looking forward to the beginning of the turf season in New York as we have a couple of exciting unraced three-year-olds in the barn. Spettro is on a winter vacation at the moment but did everything right for us off the claim at the end of last year. This son of Ghostzapper looks like he has a bright future on the turf.
We have an unraced four-year-old filly by the name Dream House who is a full sister to our Stakes caliber filly La Moneda. Very much like her sister, she's taken a long time to get to the races but is progressing correctly. I'm really looking forward to seeing how she gets on when she debuts around April.
With the temperature going up slightly there's always hope that maybe the winter is over, but I've come to realize over the years that is often not the case in New York. I'm hoping that the bitter cold end of it is behind us so we can start looking forward to the spring and coming turf season.
Pictured: Four-year-old filly Dream House