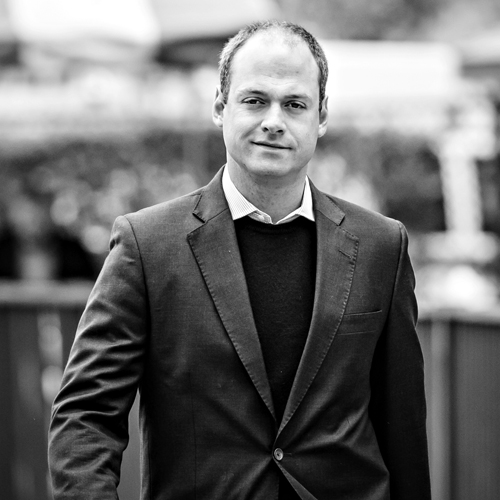 Hailing from the United Kingdom, bred into a racing family, Tom Morley was born with racing in his blood. His father was an owner and breeder, and his mother, though she did not work in the industry, loved watching jump racing. His uncle David was a multiple Group 1 winning trainer, cousin Henry Daly a multiple Grade 1 winning jump trainer, cousin Charlie Gordon Watson an esteemed bloodstock agent, and cousin Johnno Spence a sponsorship account provider for major racing festivals through his company JSC.
In 2001, at the age of 18, Tom was given his first job as pupil assistant to Ed Dunlop at Gainsborough stable and spent time working for the Lloyd Webber family stud, Watership Down, before going to Newcastle University and attaining his BA in History. Upon graduation, Morley was selected for the Darley Flying Start program, a management trainee course sponsored by HH Sheik Mohammed Bin Rashid Al Maktoum. Offering a vast amount of hands-on experience in the industry, Darley Flying Start takes students across the globe over a two year period, allowing them to gain a global perspective on the sport. Morley traveled to Ireland, England, Australia, the United States, and the UAE.
Upon graduation from the Darley Flying Start, Tom joined Jeremy Noseda at Shalfleet Stables in Newmarket for 4 years as an assistant trainer. During this time he was involved in the preparation of multiple Group/Grade One winners including Fleeting Spirit (European champion sprinter), Soldiers Tale, Sixties Icon (classic winner), Simply Perfect, Awesome Act, and Sander Camillo amongst a host of other top equine athletes.
In 2010, Tom joined trainer Eddie Kenneally, initially working in Florida, Keeneland, and Churchill Downs before helping Kenneally open and develop his New York operation. He worked alongside excellent horses such as Santiva, Custom for Carlos, Honorable Dillon, Majestic Hussar, Heavenly Landing and many others. After 18 months of assisting in New York, Morley parted ways with Kenneally and embarked on his own journey.
With a decade of experience as an assistant, Tom took a leap of faith and established Tom Morley Racing in March 2013. Since then, he has started more than 1600 racehorses and amassed over $11 million in purse earnings. Over the summer of 2016, he won his first and second graded stakes at Saratoga Racecourse with Haveyougoneaway (Gr.2 Honorable Miss and Gr.1 Ballerina), the 5-year-old chestnut mare who granted him his first Breeders' Cup World Championships start that same year. His third and fourth graded stakes wins came in 2018 with Carrick (Gr.1 Secretariat) and in 2021 with Tell Your Daddy (Gr.2 Bernard Baruch Handicap).
Tom is married to Maggie Wolfendale Morley and together they have two daughters, Grace and Willow.
Photo Courtesy: Moran Photography