Start of Summer 2022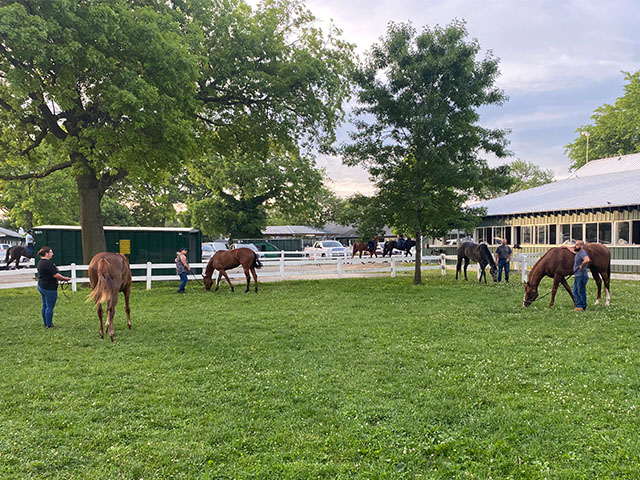 The final two-year-old sale of the year that I personally attended was the Timonium Sale, where we were very pleased to pick up two more colts and a filly. These three have gone out for a brief break after the sale process. They will get 30 days in a field and then a couple of weeks of light training before they join up with the string at Belmont Park. I was very pleased with the quality of the horses at Timonium, it's a sale we've done very well at buying in the past.
The final week of May was a good close to the month with Two Down coming back quite quickly on the 28th to win under a well-timed run from Eric Cancel. A three-year-old by Constitution, he's been an incredibly difficult project to get to the races. Mentally he was a very testy student, so it was all the more pleasing to get him into the winner's circle. That same day, Big Castle ran second in the first race and got claimed. We wish him and his new connections all the best. Monday, May 30 was New York-bred showcase day. We had a couple of okay efforts earlier in the card before Ocala Dream put up a career-best performance to win the Kingston, missing the track record by 4/5s of a second and beating a whole bunch of Graded Stakes winners very comfortably. This four-year-old son of Effinex has done nothing but improve and has been an absolute pleasure to train. This was a really, really big breakout performance, earning a 98 Beyer Speed Figure. A very talented colt to go forward.
June has been a productive month. We had the OBS June Sale in Ocala, which I did not attend but was delighted that MyRacehorse purchased a NY-bred by Central Banker from RiceHorse Stables to add to our roster. He has also gone out to have a freshening before he joins the string. At the beginning of the month, we had Gris Tormenta win a Claiming race for Flying P. Built to Last ran a solid third on June 10th and Runaway Rockette won first off the claim in a race that came off the turf two days later. Runaway Rockette is a four-year-old filly by Into Mischief who was taken out of Bill Mott's barn. I really felt that she resembled Xanthique in that she possibly hadn't run the right trip and had been a little rank in her races. So, we took the blinkers off and stretched her out on the grass. Unfortunately, the rain came down and the race was switched to dirt, but she was dominant on the frontend, nonetheless, under a lovely, well-judged ride from Trevor McCarthy.
Spettro ran an extremely good third on June 18th against some very decent horses at Belmont Park. I'm looking forward to running him in the Rick Violette this summer at Saratoga.
Obviously with Belmont coming to a close in a few weeks' time all eyes are beginning to focus on the mid-summer meet at Saratoga. It's a little bittersweet because we've had a very good meet at Belmont; hopefully, we have some more horses to run here in the final weeks. Belmont is a meet we love to do well at as it is our homebase. Saratoga, though beautiful and an exceptional meet, can be a tough place to take horses. We'll follow the same blueprint as we've done for the last couple of years. The majority of the horses will stay behind at Belmont, we'll ship ten at a time to run, and then send them right back home.
We have assembled a first squad of horses to ship up and I'm looking forward to the first condition book coming out. I will be in transit a lot between Belmont and Saratoga to watch the horses train and then run in the afternoon.
The week of June 23-26 was pretty busy with our barn sending out seven horses. Gris Tormenta started us off in race two, finishing second going six furlongs on the dirt. She was claimed at the conclusion of the race; we wish her and her new connections the best. Sweet Franny Lu followed in race five, a Two Other Than for state-bred fillies on June 23. She finished sixth after a race full of challenges. Social Whirl tried seven furlongs for the first time in her career on June 24. She put forth good effort to finish third on the turf and has really blossomed since her first start of the year. It was very exciting to see recent acquisition Brazillionaire win by four lengths under a hand-ride by Javier Castellano on June 25. Ginnsu Warrior ran in the same race and finished a solid third under Dylan Davis. Both horses went seven furlongs on turf, a trip that, I believe, suited them very nicely. On June 26, Latest Edition ran in race nine and finished fourth, and Deep Cover finished sixth in race seven. Deep Cover is a gelding whose done nothing but improve and I'm really looking forward to seeing him move forward.
That's it for now. We will blog again at the start of Saratoga.