Saratoga Success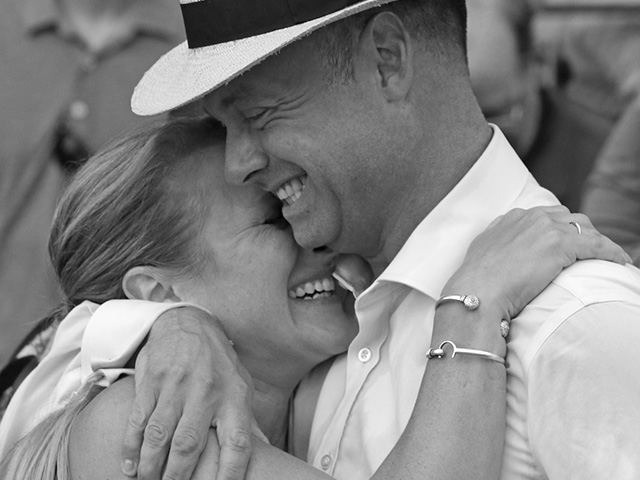 From a global horse racing perspective, Saratoga is one of the toughest places to compete. To have had as much success as we've had with the limited number of horses that we train has been a real testament to my whole team and the effort they've put into getting these horses absolutely spot on to perform. We currently sit tenth in the trainer's title for the meet, and I'm hoping we can maintain that position through closing weekend.
August has been an incredibly busy month going back and forth between Saratoga and Belmont and participating in the two sales, where we were lucky enough to purchase some yearlings that will be part of next year's two-year-old crop. Both sales were very productive and our clients did fantastic in stepping up and buying horses that we're all really excited about training for next year.
But none of this is possible without success on the racetrack. The team has done a phenomenal job throughout the month of August. We've had a number of horses claimed, which is always a little bit of a worry as it's becoming harder and harder to replace them. Still, it's been very rewarding to see the team put so many winners on the board. The month started off with a fun day on August 3, where we ran four horses, had two win and one finish second. Dot's Dollar and Charge Account won their races and were claimed away from our barn, and Ginnsu Warrior finished second.
Dynadrive gave us a huge thrill on August 6 in the Lure Stakes, a listed race on the turf. We were taking a bit of a shot at things with a view that he'd won so impressively at Belmont and surprised so many people, but us, so we felt that he deserved a shot in this race and wanted to find out whether cutting back in trip was a possibility. Eric Cancel gave him a superb ride to get up and win in the shadows of the post by a head. As a half-brother to Tell Your Daddy, we're now pointing him to the Bernard Baruch, which is the race that Tell Your Daddy won on closing day. Shout-out to Daily Racing Form's David Grening, I thoroughly enjoyed his article covering both horses, and the headline, "Oh brother, they're at it again." We're certainly going to try our best to win the race again, but this time, with Tell Your Daddy's little brother. The Bernard Baruch is scheduled for Monday, September 5.
We've had some notable performances by horses who didn't win. I was actually thrilled with Latest Edition's second place finish on August 12 and it was great to see Deep Cover come back to run a very respectable second as well on August 21. Tide of the Sea has been a little unlucky this meet with two of his races getting rained off of the turf. He did, however, run a very good third in the John's Call Stakes, a marathon run on dirt on August 24. That same day, Built to Last broke his maiden by 2 ½ lengths with Javier Castellano in the irons. He's been a little bit of a frustrating horse in that he had shown a decent level of ability without winning a race, so it was great to see him finally put his head in front and do it so emphatically. I'm really pleased for owner Gabe Grossberg and his family, who have been very patient along the way. Hopefully, now that this colt has learned how to win a race, he can go on to be a competitive racehorse. He's probably as good on dirt as he is on turf, so he's a horse I'm looking forward to keeping around. Lastchanceatglory was probably a little unlucky not to win towards the end of the August 24 card. He was given a fantastic ride on the outside by Javier Castellano, who got him to put his head in front at the eighth pole, but was beaten by a horse who is very, very brave on the inside. Again, slightly frustrating to see him come so close and not get the job done, but that's just how it goes sometimes and I take absolutely nothing away from the winner. Lastchanceatglory joined our barn in late July and put forth this runner-up effort, first off the claim, for owners Rainbow's End Racing. He was claimed following the race and we wish his new connections all the best.
Barn favourite Locally Owned was sent out on August 25 to run 9 furlongs on the dirt and did not disappoint. Javier Castellano was aboard the six-year-old by Distorted Humor who won comfortably by 5 ½ lengths. Sadly, he too got claimed, which was very bittersweet as we all really enjoyed having him in the barn. I'm sure that at some point he will circle back around. If he does and we are afforded the opportunity, we will look to claim him back.
September is upon us, which means I will be attending the sales at Keeneland and we will be moving home from Saratoga. Maggie and I are actually very proud to announce that we have purchased a new home in Locust Valley. We will be moving back from Saratoga to Long Island next week and then moving to our new home, which is also on Long Island. We bought our house in West Hempstead back when it was just Maggie, George, and I. But with several more people running around now, we came to the realization that we had simply outgrown it and needed something a bit bigger.
We've got a lot going on in September and can look back on August extremely proudly. We've still got some races to run before Saratoga is a wrap, but it's been an incredibly successful meet and I'm hoping we end it in strong fashion. Thank you to my amazing team, clients, and horses for making it all possible. If we can finish in the top 10 trainers at Saratoga, it would be an absolutely astonishing feat. Here's to giving it our very best shot.