New Year New Leaf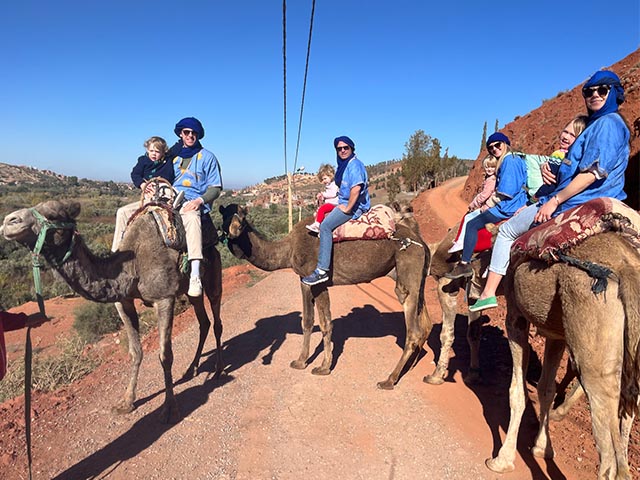 It's always tough when you lose a horse that has become part of the family. When Locally Owned got claimed at Saratoga this past summer it was always Jay Provenzano's and my intention to claim him back as soon as we could, which is exactly what we did in September. After a few starts back with us, on December 11, it was extremely frustrating to see him run the second fastest race in his entire life and lose. The fact that he ran so unbelievably well made it all the more painful to see. He is a superstar to us and we are glad to have him back in the barn.
December 16 saw the debut of Grannys Connection, who ran an incredibly encouraging second place in a Maiden Special Weight in the slop and off a shortened preparation. The following day, Saint Eros Girl won first off the claim in a Starter Allowance for Flying P Stable, rounding out racing for our barn before the holidays.
Maggie, Willow, Grace and I headed to Morocco for Christmas with my two younger brothers, their children, and Mum. Being our first Christmas without Dad, we felt that it was important to get away from home to try and put a smile on Mum's face. Glad we did as it was a lovely time. Being on the trip also meant we missed the absolutely monumental cold front on December 24 and 25. An enormous thank you to my entire team for navigating treacherous conditions so incredibly well.
New Year's Day was a welcome start to 2023 as Milton the Monster won first off the claim for Rainbow's End Racing. This horse is a charming character who seems to really be thriving in our shed row. On January 7, we had a couple of good efforts from Afjan and Doctor Love, finishing second and third. It was also lovely to get a win for the Pulaski family with Audit Committee breaking her maiden in her second start on January 13. Greg Pulaski has been a client since the very beginning, so it's always special when we manage to get him into the winner's circle. A couple of days later, Grannys Connection came back with a jaw-dropping maiden-breaking effort, winning by 6 ¼ lengths with Eric Cancel in the irons. Extremely frustratingly, the day before, the Maiden Special Weight for New York-bred fillies going three-quarters did not fill and I was forced into running her against open company horses in just her second start. In hindsight, that didn't appear to matter too much as she absolutely dominated the field going seven furlongs from gate-to-wire. The conditions that day at Aqueduct were tough with high winds, low temperatures, and a very deep and cuppy racetrack. Several horses didn't fire, including our own La Grotte. To see Grannys Connection overcome it all the way that she did was very impressive.
It's been a busy end to the month. Locally Owned and Doctor Love returned to the races on January 20, finishing third and fourth. America's Pride made her first start for the barn on January 21 to finish fourth. Audit Committee ran two weeks following her maiden win to finish fourth on January 26. Sicilian Grandma ran that same day and was claimed away from our barn. And Helicopter Money ran the following day to hit the board in fourth place.
I am in Ocala until February 2 visiting our two-year-olds in training with Karl Keegan, Sandhurst Thoroughbreds, Eddie Woods, the Gladwells, Niall Brennan, and Raul Reyes at King's Equine. Will report back on their progress in the next blog!