Happy Holidays & Looking Forward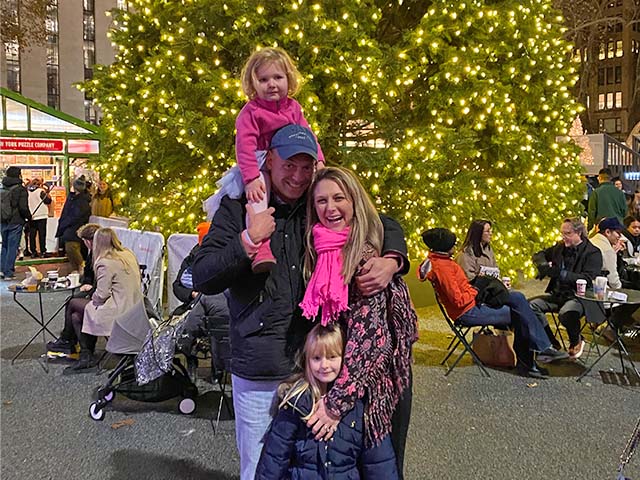 Each November as the month draws to a close, it brings with it the end of turf racing in New York. As a barn with a large number of grass horses, it's a sad time of year for me personally as I send these horses off on their much deserved winter holidays. For them, it's the opposite of sad as I'm sure they're absolutely delighted they get to go roll around in muddy puddles and eat grass until the first of January. It's becoming more and more apparent that to remain competitive on the New York circuit against the bigger divisions, those of us with a smaller number of horses need to try, if possible, to give some of them a bit of a break as the year goes on. Up to the moment we have 16 turf horses on R&R and 30 horses remaining at the track to run through the winter. Ocala Dream is due to have one more run this year before he goes off on holiday as well.
The end of November also brings Thanksgiving and, as an English chap, I have absolutely no idea what this is all about. I'm only joking. I've been here long enough to know exactly how important this holiday is to all Americans and I truly appreciate the meaning of it. I'm enormously thankful for my wife Maggie, who does an unbelievable job of being a sensational mother and professional guru in her career, and for my two little girls, Willow and Grace, who bring me more joy than anyone could possibly imagine. On top of that, I love eating turkey! Our tradition in England is to eat turkey on Christmas day. So, as an Englishman abroad, Thanksgiving means I get to have a festive turkey twice a year, which has earned it a very important spot on my calendar.
With Christmas coming up and being our first one without Dad, we're going away with Mum for Christmas with both my younger brothers and our cousins. For the first time in eight years, we won't be home for the occasion, but it will be a time to reflect on the wonderful life that Dad led, and I'm sure it will be a little bit sad not having him there. He was a very keen racing enthusiast and breeder and my biggest supporter through the very word go, and I miss him very much. It was nice to see the two-year-old who was named in his honor, Yorkshire Prince, run such an encouraging second on December 3. The son of Cairo Prince was very sweetly named by Mike Lyden and Rainbow's End Racing, purchased while I was in England with my father in his latter days.
The thing I want to touch on the most about looking forward is the fact that we've appeared to have a very backward group of juveniles this year. Slightly frustrating, however, seeing Don't Tell Amy, La Grotte, and Yorkshire Prince finish third, second, and second, respectively, over the last three weeks gives us a real bright outlook on the winter ahead. I'm hoping one or two of them may be good enough to step up onto the Oaks or Derby trail races.
A few months ago, Built to Last had a very unfortunate disqualification in Saratoga and then found himself in a very good Maiden Special Weight spot on turf about a month ago only for me to come in on the morning of the race to find he had a fever of 102.4. It was extremely rewarding to see him win on December 3 and do so incredibly well for owner Gabe Grossberg, who's had to endure a torrid three months with this horse. An enormous thanks to the Grossberg family for sticking by us and letting Built to Last show his full potential.
On December 9, three-year-old Curbstone won by six lengths at Aqueduct on dirt for owner Patricia Moseley. It was a special moment as the gelding was ridden by Madison Olver, who celebrated her first win as an apprentice jockey and was treated to congratulatory buckets of water by fellow jockeys as she returned to the jocks room.
2022 has been a challenging year with many highs and many lows. I'm very much looking forward to 2023 as I feel we've got the strongest group of two-year-olds that we've ever had, plus some other extremely promising young horses, and I'll be very excited to welcome back our turf horses from their winter holidays.
I want to wish you all a very Happy Christmas. I hope each and every one of you enjoy your parents, family, children, and friends enormously.