Long May It Last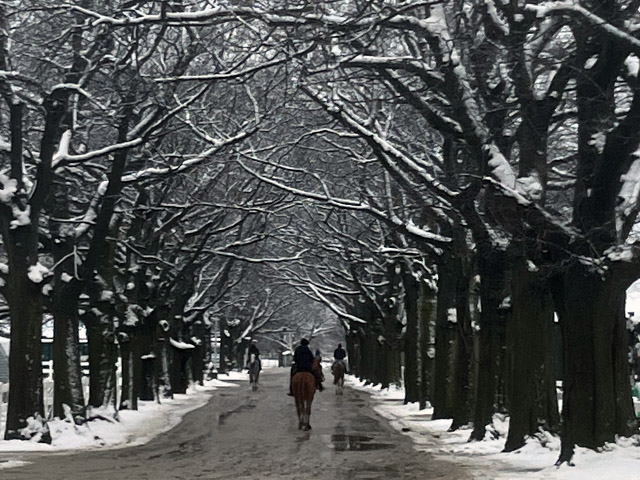 Long may this mild winter last! January and February have been very straight forward for training horses in New York. The weather up here during this time of the year can be incredibly unsettled and we've had times where we've lost the majority of a week of training due to polar vortexes. So, it's always nice when we get to have a relatively mild winter.
I took a trip down to Ocala a few weeks ago to visit some of the babies and was very happy with what I saw between the horses at Sandhurst Thoroughbreds, Eddie Woods, the Gladwells, Niall Brennan's, and Raul Reyes's. The majority of our two-year-olds are down there as well and I'm very much looking forward to seeing some of them start their careers on the racetrack in the coming months. There's a strong chance that the first couple of two-year-olds will be arriving during the first half of March, so hopefully that means we'll have a couple of precocious types to get on with. At the yearling sales I try to focus on finding big backward horses as we've previously done very well with them as early two-year-olds. Last year I tried to make sure we purchased a few of these types to give us a chance in the early two-year-old races of the year.
January ended impressively with Curbstone winning an Allowance on the 28th by a whopping 12 lengths. He was ridden by Madison Olver who had the ride for owner and breeder Patricia Moseley. A few days later we celebrated our first win of February when Empire Ride broke his Maiden in workman fashion on the 9th as a first-time gelding for West Point Thoroughbreds. This son of Good Samaritan made very heavy weather of getting by the horses in front of him but ended up winning by 2 ¾ lengths. It's not a lack of resolution, he just does what he's told to do and I think Manny Franco was more tired than him when he came back to be unsaddled. I'm very much looking forward to seeing if he's taken the requisite step forward this week when he runs in a Starter Allowance at Aqueduct. There is a chance that this gelding will benefit from even more ground moving forward as the flat mile seems to be a little bit short for him. He is very much a solid horse to have in the barn.
February was a decent month without being spectacular. It was nice to round it out with a solid week. Sixwillberich is still learning his trade and runs very spotty in his races at the moment, but he's a gelding I'm eager to get on the turf down the line. He ran a respectable third on February 24. The following day, Grannys Connection once again proved to be a promising individual. We haven't had her for a tremendous amount of time but she's always trained like a very nice filly with an abundance of class. She was bred by the late Paul Pompa Jr. and has had three starts, finishing second on debut, breaking her Maiden second time out, and most recently winning an Allowance on February 25 by nearly ten lengths. She's a filly who takes her racing pretty well, not a heavy type and didn't lose an awful lot of weight. I'm hoping that in time she turns into a Stakes-caliber New York-bred; she certainly seems to be indicating that she could go on that trajectory. We are tentatively eyeing an Allowance Two Other Than in March for her next start.
February 26 was a little bit disappointing as circumstances during the race conspired against Curbstone going back to back to back. Not his fault in the least, he still ran an extremely honest second in his first Allowance. Distance races are this horse's key as he has no bottom to his engine. Having run ten furlongs on Sunday, he licked his feed pot clean that night and would have trained again, to be perfectly honest. He will continue to run in two-turn dirt races moving forward and hopefully turn into a Stakes-caliber horse as well. The nice thing about him and Grannys Connection is that they're both only four years old, so they have age on their side.
We're starting to get some of the grass horses back breezing. The new condition books are out for March and April, making it easier for me to start planning possible spots for these horses. Dynadrive in particular looks fabulously well and his half-brother Tell Your Daddy, who has had a year off from the racetrack, looks to be ready to make his return. He is currently breezing with Karl Keegan down in Ocala and should be back sometime this month. It's exciting to have two Stakes-caliber half-brothers in the barn. Here's hoping it will be a productive year for them.
I will be heading down to OBS March for a few days looking to add to our two-year-old division before age conspires against me on April 1. This will be the final month of my thirties before I turn the big 4-0! Maggie, I'm sure, has some ghastly celebrations in store for me and anyone else who dares join in.