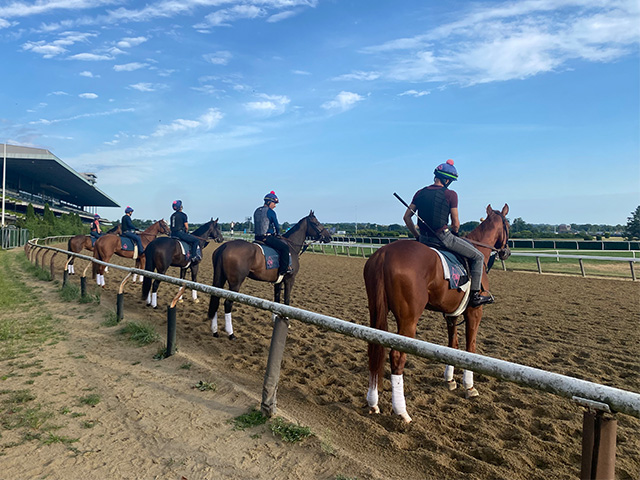 The closing 10 days of Belmont yielded a big price winner in Dynadrive. The half-brother to Tell Your Daddy was sent to us by Flying P Stable to see if we could resurrect him back to the level he'd shown previously in his career. Certainly, getting back to running ten furlongs at Belmont Park with Eric Cancel in the irons seemed to do the trick for this horse. He came in with a few niggling issues that we had to deal with and Jay was great to let us take our time with him. Dynadrive rewarded us with a monstrous performance on July 1, lighting up the tote board at nearly 50-1 odds. Media Sensation finished second on closing day of Belmont, and The Iceman Commeth was fifth a few races down the card.
Obviously this is a fairly stressful time of the year for us from a business perspective and also as a family. We had to pack up the house, the children, the dog, the goldfish, and even though we do this every year, it doesn't get any easier. Like us, a lot of the staff and many of the horses have also moved upstate to the beautiful Saratoga racecourse.
A quiet opening week at Saratoga with a number of fourth place finishes was rounded out beautifully by Brazillionaire winning his second race off the claim on July 23 for long-term clients and great friends Robert Murray, Mike Lyden, and partners. Brazillionaire has done very well in our care but did get claimed away from the barn and we wish his new connections all the luck in the future.
We had a busy and great end to the month of July with eight runners and two winners. Tide of the Sea started us off on July 28 and finished third in race 9. Ginnsu Warrior followed in race 10 and finished fourth. The following day Media Sensation ran fourth in race 2 and Runaway Rockette won going 1 1/16 miles on the turf in race 10. Airman, Built to Last, and Son of a Birch ran tenth, eighth, and seventh, respectively, on July 30. And Ocala Dream and Kinenos rounded out the month for us finishing seventh and fifth in race 7 on July 31.
As we head into August our focus becomes the recruitment of horses for next year with two Saratoga sales: The Saratoga Sale of open company horses on August 8-9 and the New York-bred Yearlings Sale on August 14-15. These are two sales I will be actively participating in, hoping to buy some high-quality horses to move forward with while also trying to maintain what has been a very solid summer for the barn over on the other side of Union Avenue, the racetrack.
The girls are having a wonderful time up in Saratoga and it's great to have our OTTB Ninety One Assault up here with us. Big thank you to Jamie Hernandez for rehabbing him from a slight suspensory lesion and getting him going so that Maggie and I can both enjoy riding him this summer; we're looking to enter him in the Real Rider Cup with Maggie later this Autumn in Maryland. It's great to have the old boy with us, he gave us so much on the track and we are delighted to provide him a home for life. Hopefully he can go on to be a productive level event horse as I feel he still has plenty of athletic ability to give going forward. He is at Willow Brook Stables with David and Carolyn Cannizzo, who have done a fabulous job of rehabbing and resting many of our horses. Much to Maggie's amusement, she got to see me jumping Ninety the other day, which made her nearly fall off the horse that she was riding with laughter.
Willow and Grace are going to Faith's House on the Saratoga backstretch and are having a wonderful time. We've had a couple of boating trips and it's been a lovely summer so far. I'll be going back and forth to Belmont Park where the majority of our horses are, including the vast majority of our two-year-olds, many of whom are getting close to running. Hopefully we've got some promising stock amongst them. As we know, Saratoga two-year-old races are the most competitive in the country, so you have to make sure that you bring the fittest and healthiest and fastest of your juveniles if you want to be competitive.
We've had some winners in the last week. I will circle back to them in our next blog right after the August 14-15 yearling sale.