Suspension, Sales and Celebration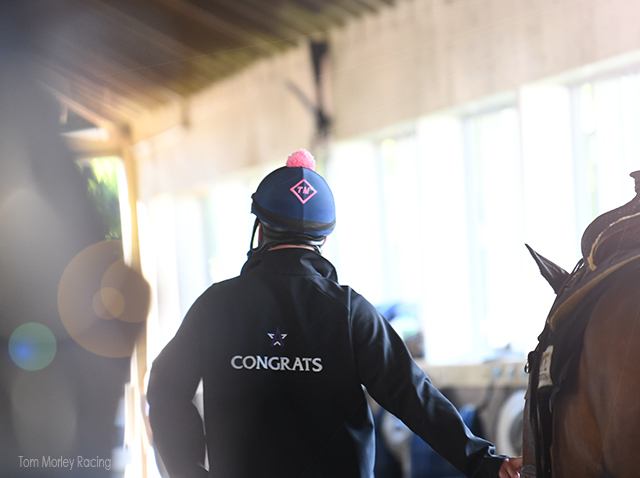 I'd like to start this blog by explaining that I served a 20-day suspension during the month of September for violating some complex rules of claiming horses in the state of New York. I could not be more apologetic to my clients or fans for the discrepancy. Please know that there was no malice or foul intent involved and I'm delighted to be back at work again. A lot of trainers serve suspensions over medication positives, so I just want to be completely clear that this has nothing to do with medication at all.
During my time away from the racetrack, I drove to Kentucky through some absolutely stunning areas that I had never seen before – Northern Maryland, Virginia and parts of Eastern Kentucky. It took about 12 hours, but was well worth it as the drive provided for some breathtaking landscapes. I arrived at Keeneland on Saturday before the inaugural Fasig-Tipton turf sale – a new concept by Fasig-Tipton to try and put together a boutique catalogue of horses with predominantly turf pedigrees and scheduled to coincide with the lot of European buyers in town for the Keeneland Sale. The concept was an extremely good one, however, it was quite difficult timing wise for us to get home from Saratoga, move the horses around and get relocated back at Belmont before having to head to Kentucky and having the sale the day before Keeneland's Book One. Nonetheless, I completely understand the scheduling on Fasig-Tipton's behalf.
Early in the evening, I was enamored by a Hard Spun colt and found myself bidding against perennial client Jerry Crawford of Donegal Racing. When I realized that it was indeed Jerry, I stopped bidding against him and was delighted to see him get the horse. I am very fond of the horse and am hoping to be given the chance to train him for Jerry.
Later on in the sale, Anthony Warrender and I purchased a full brother to The X, who won extremely promisingly in his debut for Robert LaPenta. This colt looked a sharp, progressive type and will hopefully join our ranks next year but might go through a two-year-old sale first. Lovely, strong, good bones and very correct by a stallion who I believe has an extremely large chance of being a big success at stud. Delighted with the purchases at Fasig-Tipton, it was quite an enjoyable sale.
Following Fasig-Tipton, I arrived at Keeneland to a very vibrant buying market. It was a very tough sale to buy horses at, but a wonderful job done by Keeneland cataloguing a tremendous Book One. A number of purchases were made in Book Two, Three, Four and Five, some in partnerships and some by clients. It's always a bit difficult knowing how some of the syndicates (such as West Point and Donegal) are going to allocate their horses, but I thought those two bought extremely wisely. As always, Conor Foley and Jim Hatchett were absolutely superb help to me going around the sales. Oracle Bloodstock probably doesn't get the credit that it deserves as Conor isn't the biggest self-promoter in the world, but if you look at the success that Donegal has had since Oracle started assisting with purchasing and the placements of their horses, it speaks volumes of what Conor and Jim do. I certainly want to extend another big thank you to them for their help and expertise.
The 12-hour drive home seemed to take a lot longer than the initial drive down, mainly due to aching limbs and feet, but I made it back and managed to enjoy a day at home. The next day, Maggie, Grace and I packed our bags and headed off to England where we spent about three hours inside of Heathrow Airport, met up with my mum and dad and jetted off together to what I can only describe as one of the most beautiful areas of France I have ever been to. All so we could watch my youngest brother, Henry, get married in a stunning village between Toulouse and Bordeaux.
The first few days there it was just Grace, Maggie, mum, dad and myself in a house that turned out to be more like a zoo. We woke up the first morning to 12 donkeys, geese, swans, parakeets, dogs, two Shetland ponies and a black swan surrounding the house, which made Grace feel as if she had died and gone to heaven. Towards the end of the week, the rest of the family started to arrive and we had a true Morley gathering. Dad had his five sons, six grandchildren and 150 people there to celebrate Henry's wedding over a three-day party that was nothing short of spectacular.
I arrived back in New York to find the barn running extraordinarily and want to extend my gratitude to my top-class assistants Mark and Ronnie for the splendid job – thank you, gentlemen. I also want to thank the rest of my team; I am very fortunate to be surrounded by such hard-working, passionate individuals who take the finest care of the equine athletes in my barn. The horses looked well and some ran extremely well while I was away, including an eye-catching two-year-old for West Point Thoroughbreds named Causforcelebration. Keep an eye out for a couple of two-year-olds who are likely to debut this month and are probably better than anything we've run thus far.
September concluded another Saratoga meet, served a suspension, presented two very enjoyable sales and then came to an end with a family celebration that was very much needed in order to commence the fall season on the right foot.