Spring has Sprung!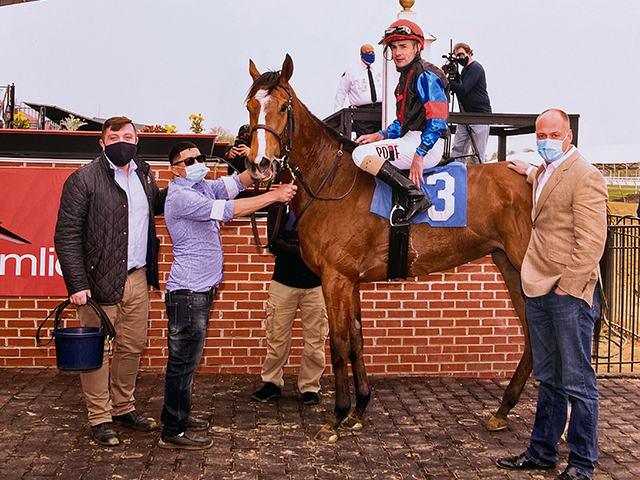 April was a productive month, a busy month, a tiring month. There was plenty of travel as well as getting the horses back in from New Orleans and the farms, but it was a good end to the Fair Grounds meet and month. May has begun to show signs of spring returning as we get back on the grass in New York which is always an exciting time of year. The March and April OBS sales were relatively productive with a pretty strong market in March and then probably wasn't quite backed up in the April sale as there were a lot of horses withdrawn and bought back. We've got one more sale to go and that's the Maryland State Fair two-year-old sale in Timonium which is always a favourite of ours, not just because there's a number of New York-breds for sale but because the glutinous boss here particularly enjoys eating the phenomenal crab cakes as well. It's also a lot of fun as it's held on a Monday and Tuesday, which are dark days, which means Maggie can come to the sale and bring the girls with her. So, while it's a busy and active time to be buying young horses, it's also quite nice to have the girls with me, although sometimes that leads to Grace wanting to buy racehorses which can be virtually non-negotiable when she gets her ideas about which one she would like.
April was a super month in terms of the performances on the racetrack from the horses. A little frustrating for one of our syndicates, Rainbow's End Racing had three starts, two seconds and a third, but Repo Rocks certainly showed a great deal of ability finishing third in a Maiden Special Weight first off the claim and Runabout did them proud running twice in one month, finishing second and running top efforts both times.
It was great to get our New York account underway for new owner Flying P Stable as Easy to Bless won first off the claim at Aqueduct on April 18. A three-year-old filly by Flat Out, she was extremely impressive and was claimed – congratulations to her new connections, we wish them the very best of luck. Very pleased to get Jay Provenzano off the mark in the barn, he also got another win on April 30 with Locally Owned, who won first off the claim as well and is a very, very cool older horse with plenty of back class. A five-year-old by Distorted Humor and out of Fiftyshadesofhay (Pulpit), he certainly seems to be everyone's favourite in the yard and is nicknamed "Sad Eyes" because he has these big, very concerned looking eyes. He found himself in a very deep Two Other Than on April 30, but Joe Bravo gave him an outstanding ride squeezing around the rail, saving a lot of ground before tipping out in the lane and getting the victory.
Some other notable efforts I was pleased with: Rally Squirrel running fourth on debut on April 30 and Duncastle only getting beat by a length the day prior after coming off his winter holiday. Very much looking forward to seeing what Tell Your Daddy can do as we move forward, another Flying P horse who got beat by a length at massive odds in the Elusive Quality Stakes at Belmont on April 24.
Ninety One Assault and Xanthique headed to Pimlico the weekend of April 24 to run in races that had been rescheduled from April 17 and were meant to be at Laurel. We ran Ninety in the Henry S. Clark, a race that he was second in last fall, and he ran very well to be fifth, beaten by two lengths. He's now on spring holiday at Patty Hogan's Hogan Equine in New Jersey where he'll get his usual 60 days off before gearing up for the Louisiana Champions Day Turf Stakes again in an attempt to become a hat trick winner of the race.
But the real highlight of April was Xanthique finally getting her stakes win in the Dahlia Stakes. Feargal Lynch took the ride after the filly came in following a brief freshening at Sandhurst Thoroughbreds in Ocala, FL. She'd been back in with us for about six weeks and appeared to be going in really good form. She was third choice in betting which gave us some real confidence that we were live in the race and had a chance of getting some more black-type with her. Feargal gave her one of the most outstanding rides I've ever seen, tracking Graham Motion's filly, saving ground all the way around before tipping out at the eighth pole and getting there just in the nick of time. It was a very anxious last hundred yards as it looked like it was playing out similar to a few years ago when we ran La Moneda in the same race and Graham beat us by a nose with Secret Message. Graham very gallantly said to us after the race that he thought Xanthique's win was revenge for a few years back. Xanthique has just been one of the most wonderful horses we've had around for a long time, she's been through all her conditions since we claimed her two years ago. Being a daughter of Into Mischief, a stakes winner, and a stakes placed filly, she's now worth a great deal of money, but more importantly than that she's just been an absolute credit to my barn. Huge thanks to Juan and Axelle, and to William who gets on her every day. She's not an easy filly to train, she's very hard on herself in the morning and the team does a wonderful job looking after her, allowing her to fulfill her potential.
In other news, it's fantastic to welcome some of the new two-year-olds into the barn for the first time. I'm excited to have been named trainer for the Empire Racing Club as Rob Masiello has allowed me to join the ownership group of Boom Roasted, a Practical Joke New York-bred who will hopefully give her owners a lot of fun.
April was a very busy month of runners, several of who got claimed and so we'll probably have a slightly quieter month of May. Certainly looking forward to getting down to Timonium, finishing up our two-year-old training sales for the year, and getting our feet into the summer of New York racing. Long-term plan is to take the girls to England again in the month of June as my father will be 80 this year, my mother will be 70, and they will be married for 40 years. Me and my brothers are throwing lunch for them at the end of Ascot week so I'm very much looking forward to going home.
Pictured: Xanthique in the winner's circle after winning the Dahlia Stakes at Pimlico