Saratoga with a Twist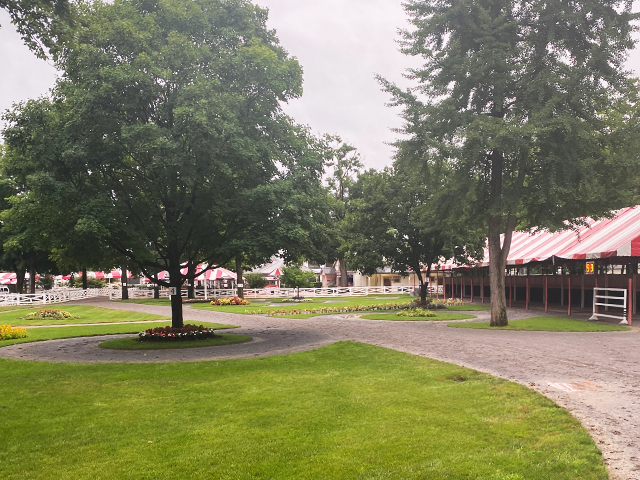 I ended the last blog briefly touching on Xanthique's win over the Belmont lawn and I want to expand on that. She was very impressive in her second start of the year, winning an allowance race on June 28. I took a little bit of a risk running this filly back so quickly. We gave her the winter off and then brought her back with the goal of getting her started earlier in the year, and then of course that didn't happen so she had to wait until June 3 to get her first start where she ran an excellent second. The race then came back three weeks later at a mile and I felt the distance was really her best last year, although this year she showed she probably needed to stay a little bit further. But rather than miss the opportunity of running in a one-turn race at Belmont and having to go two turns at Saratoga, I made the decision to run her back quickly. There is always a chance a horse will run hard first time off a layoff and regress slightly, and the figures suggest she possibly did just that; but she was still victorious. The plan for her now is to try and win a second-level allowance as a prep race for the filly and mare stakes at Kentucky Downs, where she – as a Kentucky-bred – will run for a very lucrative purse, and then target the listed program at the Fair Grounds over the winter. Delighted for Gregg and Cath Palesky, their son Vincent and daughter Lauren after whom VinLaur Racing is named. Really good having this Into Mischief filly back in the winner's circle.
Obviously with COVID-19 hitting a lot of businesses very hard through the early part of this year, there was a decision that had to be made about whether the NYRA would take on the Saratoga meet and whether the community there would be willing to have a large amount of people come in from all over when clearly the spread of this virus is still very prominent and problematic. It was agreed that the meet would continue ahead with no fans and, with restrictions and protocols in place, owners would be allowed to attend to watch their horses run. This was an exciting accomplishment and very important in my eyes because at the end of the day it is the owners who purchase the horses who run in races and put on a show for all of us to watch. As soon as the governor allowed it, it was the absolute priority to get them on the grounds. The fact that NYRA managed to do so is very encouraging.
The horses in the first few days at Saratoga have run extremely well without getting a win. It was amazing to see Royal Asset return to form only to be beaten by a head in a very competitive allowance on the grass on July 19. The Caretaker finished second on opening day and Red Right Hand ran his usual, extremely gutsy race on July 18. All three of these older horses ran every bit as good as they ever have if not better, which made it a bit frustrating to not have one get their head in front. That aside, I could not have been happier with the effort they put forth.
With no long races for New York-breds in the first book, I rolled the dice and ran Ocala Dream 1 1/16 miles on the turf in an open company maiden on July 18. This was a race with some rather blue-blooded individuals from very big barns. It was extremely pleasing to have that decision vindicated as he moved through the field at the end of the race and came home faster than any horse. He finished an admirable fourth by two lengths in just his second career start. He will look extremely tough now in a New York-bred race later in the meet and although he ran tremendously well on the turf here, I'm still not putting off the dirt for this horse in the future.
Saratoga is extremely eerie without our fans. There are no picnic tables on the grounds and it's a little bit like training and racing in a more ghostly of a place from years before. It's quite hard to generate the excitement that is normal for this meet without the fans and, quite honestly, it's a sad reality we are faced with every day. I think I can speak for everyone here when I say we are all looking forward to things going back to normal, having the crowds of adoring fans back on the grounds next year.
In other news, we finished up the two-year-old sales purchasing two more fillies at Timonium. We bought a Malibu Moon filly, out of Graded Stakes Placed Fastnet Rock mare Cana, who looks to be a little tank of a filly and quite fast; and a lovely Speightstown filly for The Elkstone Group (Stuart Grant). Both have joined the team at Belmont Park. This blog is titled Saratoga with a Twist in that, due to the circumstances of this year, we have elected not to take our entire division of horses up to Saratoga and instead have left the vast majority at Belmont, allowing our staff to stay with their families and cutting back on the general expense of moving our entire operation to The Spa.
We are anticipating the start of a couple of juveniles towards the second half of the meet. There will be the usual maiden stakes restricted for horses purchased at auction for $45,000 or less in the second two books at Saratoga; we have some eligible for those races as well as some nice New York-breds and one or two open company horses I'm looking forward to getting started.
In the meantime, I shall continue to go up and down i-95 between Belmont and Saratoga. Stay safe, stay healthy, and I will touch back with you later in the meet.