Promising End to Winter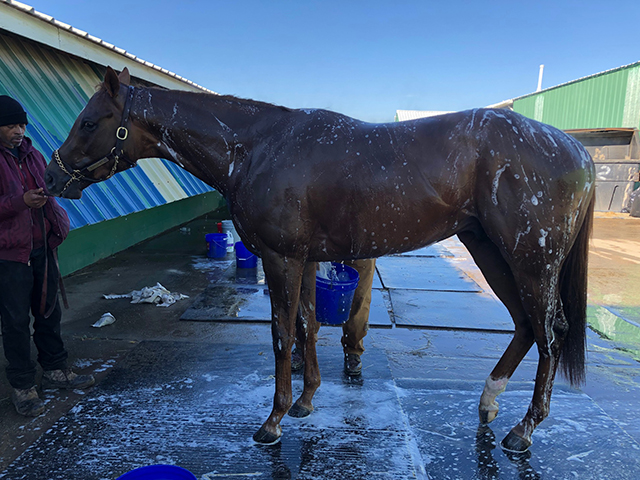 It was very nice to get the month of February started with Deputy Flag running an excellent second off a very long layoff. Bluegrass Flag's half-brother by Posse has always shown a decent level of ability in the mornings, but sadly got a very sore shin in his early start as a three-year-old; credit to Tommy Albrecht and Vincent Fusaro, joint owners of the gelding, who gave him plenty of time to recover and get back into form. He tried his luck on February 1st and then three weeks later on the 22nd at Aqueduct where he finished second in both races. A little disappointing to see him get so close to a win and then lose right at the finish, but great to have him back on the track.
On February 10th, Ian Glass ran all the way to the line and was beaten by two noses in a very competitive race at the Fair Grounds. The promising Hard Spun colt owned by Donegal will run in the Black Gold Stakes on March 3rd at the Fair Grounds. He is a colt that I've always liked a lot but had run very greenly in prior races. This time he stuck his head out and gave a very good effort to the end.
Grade One Secretariat Stakes winner Carrick came back on February 16th and ran third after an impossible draw in an Allowance Optional Claiming race at the Fair Grounds a couple of weeks ago where he was beaten by three-quarters of a length in a race that was ultimately too short for him. It's always tough to run a Grade One winner in an Allowance and have them fall short, but this is just a starting point for him this year; he is much better when he gets to go 1 1/8 or 1 ¼ miles. He drew post 14 of 14 and was ridden by Adam Beschizza, who worked out a very solid trip on him. Although turning into the stretch he had more horses in front than he did behind, he closed like a freight train and galloped out in front of the field. It was exactly what I wanted to see from him starting his four-year-old campaign. He will go to the Muniz Memorial on Louisiana Derby day.
Mr. Mike ran a very encouraging fifth in the middle of the month after being switched to the turf. The three-year-old by Candy Ride (ARG) will cut back in trip now as he just seems to be a little distance limited. Ninety One Assault, who had not run since November due to all of his races being taken off the turf, came back in an Allowance at the Fair Grounds on February 8th and won by a head. The fact that he hadn't run in three months and was able to run so well was really thrilling and says a lot about the type of horse he is. He is an extremely talented Louisiana-bred with a wonderful temperament and he really looks like a bigger and stronger horse this year. He was entered to run in the Dixie Poker Ace Stakes on March 2nd , however, not surprisingly, the race was taken off the turf and I once again made the decision to scratch him. I really am hoping we can find at least one more start for him here in NOLA before the meet comes to an end.
Five-year-old Kentucky-bred son of Gio Ponti, Compagno ran second in an Allowance race first off the claim for client Chris Makris of Spartan Stable. I've trained a couple of horses for him in the past and am happy to have another one of his runners in the barn again. Even happier to see his new horse do so well for him.
March will be a much more hectic month than the previous two with trips to New York, Ocala, Miami and then moving the family from the Fair Grounds back to Belmont. Maggie is looking forward to a summer with more than 500 hours of live network time on Fox Sports through the NYRA broadcast and I cannot tell you how happy I am for her. She's already been to Florida and New York to tell the Derby prep races and I believe there is a chance she will be heading to the Fair Grounds to do the Louisiana Derby and possibly to Oaklawn as well. It's going to be a busy spring for us both and I am very much looking forward to seeing what the coming season brings us.
Pictured: Mr. Mike getting a bath