Closing Out Aqueduct and Keeneland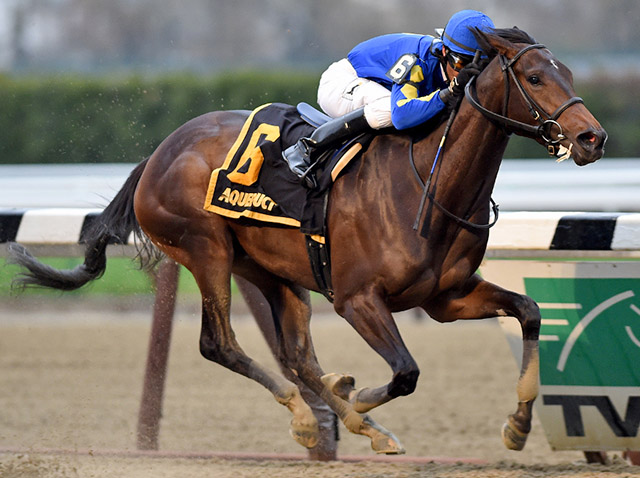 Now that we are full into spring, a recap of our New York winter meet and Keeneland meet…
Our Keeneland mission became a little deteriorated when we lost a couple of horses towards the end of the Fair Grounds meet – a horse or two moved on to other trainers, one got claimed and a couple got hurt, so we took a bit of a depleted team to Kentucky. Still it was nice to have a presence there for the first time. Kiss The Toad ran a very good third in a hot allowance race where he was a little unlucky; the horse on his outside would not load and he kind of fell asleep in the gate and missed the break. Regardless, he ran a solid race and is a horse that I think has an abundance of talent. It's too bad we did not win at Keeneland, but we will be back in the future and in force.
Back home, we had a cracking end to the meet at Aqueduct. Patience Love broke her maiden for owner Orangella Racing Stable. Conor Foley of Oracle Bloodstook purchased the filly at the Keeneland Yearling Sale. The daughter of Paddy O'Prado finished third in her prior start at the Fair Grounds and translated that form to a maiden win at Aqueduct going two turns on the grass, and was very professional in doing so.
Lion in Wait, who finished second in the same race as Patience Love, ran her first race going two turns and first on the turf and I thought she ran an excellent race. I think her runner-up effort speaks volumes of her ability as she had only had one start prior to that and Patience Love had run a handful of times. Gary Barber's filly certainly should be a lot straighter and know her job next time. It was the last race of the meet, so it was kind of neat to end things with a bit of a bang.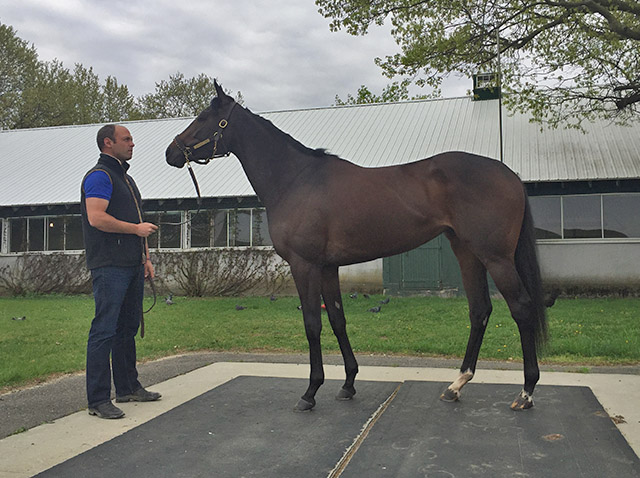 Earlier in the card that day My Ekati Cat finished a very brave second for Mr. Barber as well. It was a bit frustrating to have to seconds for him, but it was a grand effort and really was not a bad afternoon.
Bluegrass Flag gave us another win on April 22 in the New York Stallion Stakes going 6 ½ furlongs on dirt. I have always had extremely high hopes for this beautiful daughter of Bluegrass Cat, but the way she won this race and the time in which she did it in indicates that she might possibly be on the way to becoming an extremely talented filly. Bluegrass Flag faced Chad Brown's 1-5 favorite, Noble Freud, who was a rather expensive private purchase, and she managed a superior run. My filly had quite a bit of experience and it seems to have made all the difference as she just dominated the field. Setting the pace seems to be her running style – not that she wants to run too fast, but she has been doing it very comfortably. She was extremely impressive. The internal fractions of the race :22.71, :45.48 and 1:10.08 were very decent, then for her to draw off in the last sixteenth-of-a-mile and run 1:16.67, earning herself a 91 Beyer Speed Figure, means she is certainly a talented three-year-old filly. I am delighted for owner and breeder Tommy Albrecht, who has been campaigning claimers all of his life and mentioned to me how very, very special it is to finally have a good horse like this.
We will let Bluegrass Flag tell me where she wants to go from here, but the Gr.1 Acorn is a race that I am seriously considering. With the form that she is in and her running style, she can be very dangerous in a race like that because she can dominate horses from the front-end and do it her way. It's something that Kendrick and I have been working on with her and she is becoming more and more relaxed in her races. If she continues the way that she has been then I think going one mile will be well within her comfort in the near future.
Top right: Bluegrass Flag winning the New York Stallion Stakes at Aqueduct, NYRA Photo. Bottom left: Tom Morley and Bluegrass Flag, Tom Morley Racing Photo.