You Can't Do Anything About The Weather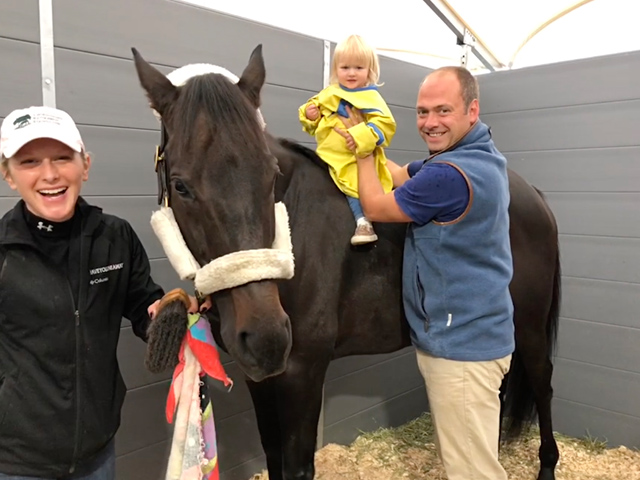 Post Saratoga is always a little bit of a rush as we try to get everyone back to Belmont and then I head off to the Keeneland yearling sale. We saw an incredibly strong market for the yearlings in Lexington in September, which made it quite difficult to buy a horse early on. It's always good for the industry when we see Sheik Mohammad bin Rashid al Maktoum and his brother Sheik Hamdan at the sales, however it does make things a little harder for the rest of us trying to buy horses in a bull market being supported by large conglomerates of very wealthy men, plus a lot of Middle Eastern money, Russian money, etc.
Nonetheless, we did manage to land four yearlings, and that in my eyes is a very satisfactory number. An outstanding son of Candy Ride was purchased by Linda Juckette and he was probably the standout of the group. We also made two under the radar purchases: a half-sister to Whatsdachances (by The Factor) was bought for Robert Masiello by Joe Migliore; and a very well balanced Will Take Charge colt for new client Charles Felton.
Following the sale I drove back to New York and then to Maryland to partake in the Real Rider Cup against my darling wife Maggie. Having met my horse for the first time in the ring behind the show ring, that very same day, I was delighted that he jumped into the bridle and absolutely flew the moment I pointed him at the very first fence. Yeager was absolutely perfect in the practice ring; however, unfortunately for Maggie when he went into the ring he got a little star struck and confused by all the colored poles and had a couple of refusals and a few poles down. Chewy, my rent-a-horse, went clear and did a wonderful job toting me around – he's probably one of the finest horses on the face of the earth to manage to go clear with me on his back.
Once back in New York, the heavens opened and we got about 2 ½ inches on the Thursday of Joe Hirsch weekend, where Carrick would be making a run against older males. When you have a young horse who is relatively lightly raced and has always run on firm ground, sending them out on softer turf for the first time is always a bit of an unknown. To try it in a Grade One against older horses posed a big question mark in my mind all week. Jerry Crawford of Donegal Racing decided to roll the dice and let Carrick take his chance, but to be perfectly honest, we knew our fate a few strides out of the gate. Carrick was beaten a very long way, but came home in good order. We are now considering shipping him to California for the Hollywood Derby, but will weigh any other logical options next to it before making a final decision.
September was a quiet month with just a few horses running. I was delighted to see Zinger win his 2x Allowance at Laurel in the closing strides on September 16, and then watch Cooptado the following week put on an absolutely extraordinary performance in the Laurel Turf Cup where he finished second to favourite Hello Don Julio. Cooptado went off at 115-1 after a couple of lackluster efforts, and it just goes to show that he still very much retains his ability. He was put in a field and given a month off in the middle of summer and came back guns blazing to run absolutely tremendous.
Moving forward into October, we've got some two-year-olds ready to run who have already had a run and should move forward significantly in their first race back. Although Keeneland will be relatively quiet, we plan possibly to run Cooptado in the Sycamore and La Moneda in either the Athenia towards the end of the month or the Ticonderoga. Both races are the same weekend, at the same trip and the same purse, but one is a Grade Three and the other is a New York-bred stake. Mrs. Moseley and I will be sitting down to figure out exactly which one we will point towards.