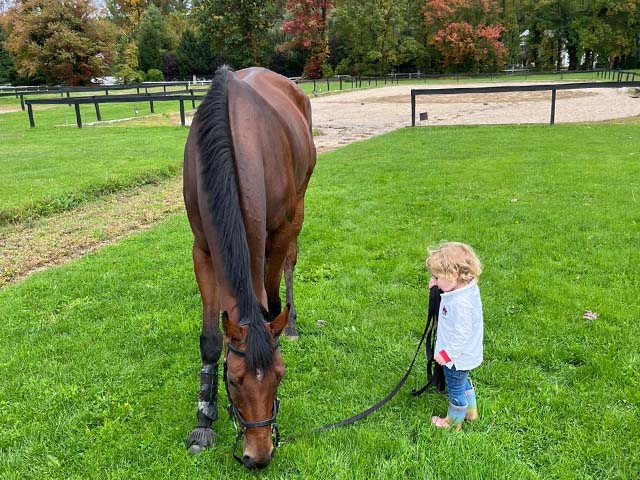 Having had Saratoga end on a rain sodden long weekend, we were a little unlucky to get Ocala Dream and Dynadrive in the Bernard Baruch on ground that had completely fallen apart on September 5. Although Ocala Dream ran a respectable fourth, neither of them really appreciated the ground. After the race that very same day, we packed up the vans, the cars, and brought everyone back to Belmont where it was great to have the entire team under one roof again. In the short interim between September 5-12, Maggie and I moved to our new house, which was quite stressful considering we had just got back from Saratoga and actually moved house twice in a week. Nonetheless, we are happy to share that we've relocated the family to our lovely new Locust Valley home where the school district is significantly better for Grace and Willow.
Afterwards, with two weeks of basically no racing, I headed down to the yearling sale at Keeneland on September 12 where—for the first time in many years—we did a really great job of buying the horses at the top of our list. We came away with seven yearlings, headlined by a half-million dollar Arrogate colt purchased by John Zanotti, West Paces, and breeder Curtis Green remained in for a leg. Some of the other really nice types include a beautiful Upstart filly, a very precocious and strong Kitten's Joy, and an Omaha Beach filly who looks like she could be very early and potentially a Royal Ascot type. Many of our clients joined us at the sale which was great as it's always fun to walk around with them and have them actively partake in the buying process.
Towards the end of September, Latest Edition took a step up in class on the turf. Frustratingly, she got a hairline fracture of the shin in the race but was tremendously brave to win in a four-way photograph. She was never lame after the race but had a callous bump come up on the shin a few days later and x-rays revealed a very small crack. She will now be given the winter off and come back next year as a four-year-old, hopefully better than ever.
It's been good to see a few of the other horses run very well these past few weeks. Runaway Rockette found a new home sprinting on the grass on September 15 and has run two extremely credible races since. This is a filly we claimed for $30,000 earlier in the year who has now won two races for us and hit the board in a number of Allowances.
Since returning home, we've started running a lot of the more backwards two-year-olds. It's been lovely to see some of the promising bigger types for next year run credibly on debut. I was very pleased with Don't Tell Amy running second going seven furlongs on October 23, and Mighty Atlas breaking his maiden under Irad Ortiz four days later. Some of the others, like Yorkshire Prince and Sixwillberich, have also run very well. We don't crank on our two-year-olds at all for debut as I like to use it as a learning experience for them. Many of these horses have come out of their races well and look to be progressing in the right direction.
It was great to see Seven Scents return to form on October 27 with a gallant third place finish and Beyer of 103. He recently ran in the Claiming Crown on November 12 at Churchill Downs where he finished third going 5 ½ furlongs on dirt after the race came off the turf due to weather.
This year Maggie and I really got to enjoy the Breeders' Cup. In previous years where we've had runners or taken children with us the enjoyment of the event itself was somewhat diminished due to nerves and anticipation of running our horses. Last year we took the girls with us and though it was great to spend that time together as a family, it was a bit stressful with everything going on. This year we left Willow and Grace behind with their grandmother Tammy, who took on the duty of looking after them for the whole week. Maggie and I then headed down to Keeneland for what can only be described as some of the most blissful few days of racing we've had in a very long time, Maggie especially as she rarely gets to go to the races as a fan. To really get to appreciate the quality of horses on display together was fantastic, and it was capped off by one of the most incredible dirt performances I'm likely to ever witness seeing Flightline run as hard and as fast as he did in the Breeders' Cup Classic. My best friend from England, Ed Walker, had a runner earlier in the card there as well. To be able to enjoy it with my best mate and my wife was absolutely terrific.
Following the races, watching a 2.5% share of Flightline sell at Keeneland for $4.6 million, valuing him at $184 million, really cements exactly what this horse has shown on the racetrack. This is a horse with a fantastic pedigree who cost a million dollars as a yearling, remained undefeated on the racetrack, and goes to stud at Lane's End having won a Breeders' Cup Classic. These horses come along very rarely in a generation. To be there for his final race was just spectacular.
Really looking forward to closing out the year now. We're beginning to get more and more weather, so some of the turf options are becoming a bit limited. As the year comes to an end, many of our turf horses will have one more run before heading to their winter quarters to enjoy some time off. We have a nice group of two-year-olds to run this winter. Hopefully some of them will progress to become nice horses for the future.