Why Del Mar's Track Affects Arrogate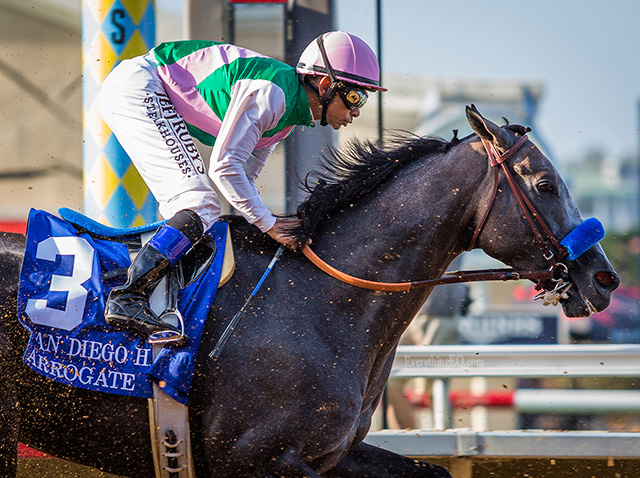 My belief, and not necessarily the belief of Mr. Baffert and connections, is that Arrogate quite simply isn't as good over the Del Mar surface as he is over any of the other surfaces that he's run on.
Del Mar is right on the edge of the ocean; it's a track that retains a lot of salty moisture and it's a very unique dirt surface. Look at the fact that he won two 1 1/16-mile Allowance races at Santa Anita by a combined 9 ¾ lengths in three weeks time and compare it to his start 41 days later over the exact same distance at Del Mar, where he won by just 1 ¾ lengths. Then, 23 days later, he flew out to Saratoga, ran a 122 Beyer and broke the track record. Now, don't tell me that he improved that much in that short space of time and that surface didn't have something to do with it.
Every dirt surface is different, but a lot of the lesser informed people are of the opinion that a dirt surface is a dirt surface. They could not be further from the truth. From Saratoga to Belmont, there is an enormous difference. At Aqueduct, the outer track is very different from the inner track due to the bases that they are on and the constitution of the actual dirt. Del Mar's dirt is very different from Santa Anita's dirt although they are in the same state, just as the dirt at Churchill Downs varies from the dirt at Keeneland. Every single dirt surface is different, the same as every single turf surface is different because of the type of grass and the makeup of the soil underneath it.
Maybe Arrogate's connections got it wrong; maybe they didn't have him fit enough in the San Diego; maybe he's lost his focus; maybe the trip to Dubai took more out of him than anyone expected. But to me, the common denominator of him not running his best races has been the fact that they've been at Del Mar. Tiyo – one of my turf runners – was a much better horse on the Fair Grounds turf than she was at Aqueduct or Belmont or anywhere else she had ever run. She obviously relished the Fair Grounds surface, which is evident in her record. Turf is a little different because horses mainly only have to handle changes in moisture. A firm turf course in Maryland tends to be very similar to a firm turf course in New York. But if it's a yielding turf course at Belmont, I would say, that's a much different surface than a yielding turf course in Florida.
There are three basic parts to a dirt surface that affect its consistency:
Base – this is what the dirt is laid over and it can be anything from a clay base to limestone.
Dirt Constitution – the makeup of the dirt itself; whether it's clay, sand, or dirt from wherever. Take the track at the Fair Grounds, for instance. A lot of it is Mississippi River dirt, which makes it very unique. You simply won't find that at Churchill Downs.
Moisture – During the winter at Aqueduct, because it's sub-zero, they can't get water onto their tracks because then the track freezes. So the dirt becomes very deep, very tiring, very powdery. Whereas you can get a sloppy track at the Fair Grounds and it's like a freeway it's so fast. It's very tight and full of river silt.
Conclusion: No dirt surface is the same. And this is something that cannot be overlooked when analyzing Arrogate's performance, or any other horse's performance, fairly.
Photo Courtesy: EverythingEQ.com