Bad Weather, Big Efforts, And a Vacation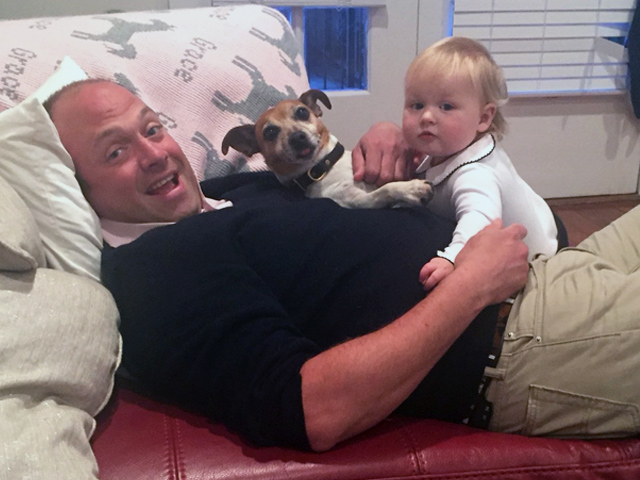 After making some extremely encouraging starts for us in New York last year, Roman Approval was put to the test in Texas, facing trying conditions and finishing 11th in the Gr.3 John B. Connally Turf Cup. Up in New York, the weather turned against us and his dislike of soft ground was proven at Aqueduct. After a brief freshening, we targeted the mile-and-a-half John B. Connally at Sam Houston on the basis that Texas is a place where there is very little rain. The team and I assumed there would surely be fast ground; but of course, three days before the race, the heavens opened up and it rained non-stop for two days.
It was unfortunate, but being that we had already shipped Roman there, the decision to run did not waiver. I flew over to Sam Houston and found myself to be very disappointed with the state of the turf. While the track itself was very level and very fair, it was also it was very soft. After only 150 yards into the race, I knew we were in serious trouble. When this horse is comfortable he'll happily zip through an opening half-mile in 48 seconds, so to see him laboring through a half in 50 and change, on the lead but clearly not relishing it, was a major disappointment. Shaun Bridgmohan did a tremendous job of looking after him on ground that he clearly did not enjoy. We will go back and find a race for him, but he will only ever run at Sam Houston on fast ground. Probably my mistake; I probably should have scratched him. But it was an awfully long way to go and the team made a decision to give him a chance.
It's incredibly frustrating when things like this happen, especially with turf horses. Thank you to West Point Thoroughbreds' Terry Finley and Rob Masiello for being patient with this horse. It looks like we made a very logical play, we now just need to make sure we spot him in the right place.
On the flip-side of that coin, I was absolutely thrilled for Rob when his Go Get The Munny broke his maiden at Aqueduct on the 1st of February. This is a horse we've been through some major, major stumbling blocks with since we purchased him for $95,000 last March at OBS. He went through some growing pains post sale and also appeared to be developing some sort of neck problem, so we ended up sending him to Dr. Dean Richardson, who diagnosed him with a number of small juvenile niggles. After Dean addressed the issues, we sent Munny to Bruce Jackson's rehab facility at Fair Hill. I cannot thank these two men enough for successfully rehabbing this horse into absolutely outstanding shape. He's a very big horse, maybe 16.2 hands already. After purchasing him, we had originally planned to run a three-year-old campaign. However, having seen the state he was in last summer, I became worried he would never make it to the races. To see him win his debut in such dominant fashion was truly gratifying; this horse has improved dramatically in such a short space of time, it's truly a testament to his impressive ability and to my team's devoted work to the horses in our barn.
Owners like Rob and West Point make the sport so much easier to deal with because, whenever there is an issue like this, they give the horse all the time in the world to make a full recovery and there is never any pressure on me to get him to the track. It really is the ideal scenario for any and every trainer. Future plans for Go Get The Munny are on hold as he recently returned to the track for the first time, but I imagine we will point to an Allowance race in 4-6 weeks time, and depending on how he looks then we can start thinking about bigger plans. He is a gelding with a bright future out of a mare named Bliss, who was relatively successful, and has an Into Mischief filly – who is a half-sister to our gelding – coming up in the March sale.
Go Get The Munny broke his maiden while Maggie and I were taking a quick holiday in Barbados. This game is 7 days a week, 365 days a year, and if you don't take breaks you'll find yourself getting into a deep rut – it's very important that you keep your mind fresh. Maggie booked a wonderful hotel for us and we had a really enjoyable few days getting away. Big thanks to Tammy, Maggie's mother, who came down to New Orleans and looked after Grace and George. Without her we wouldn't have been able to take some much needed time to ourselves.
Looking forward to the next few weeks we have a limited number of runners coming up, but a couple of horses to keep an eye on. Hopefully, Lyrical Tale handles her comeback going two turns on the turf and we'll get another chance with blinkers on. She's a little bit of a one-paced filly with a lovely pedigree, but the key to her is that she breaks well. If she does, she'll give herself a live chance. Her works certainly indicate that she's improved for her first start as a three-year-old. At this moment, she is entered in a MSW at the Fair Grounds on the 17th of February.
Danny California, who broke badly last out but finished in extremely good form in a MSW, ran back on Sunday at Aqueduct to break his maiden in admirable fashion. The son of Afleet Alex showed plenty of heart running wide all the way around through light rain on a wet track and fearlessly challenged the leader on the stretch to win by a half-length. Congratulations to owners West Point Thoroughbreds and Chris Larsen on the win – it was certainly rewarding. In November, Audible soundly beat Danny California at Aqueduct and has since gone on to do big things, winning the Gr.3 Holy Bully Stakes a couple of weekends ago at Gulfstream Park. Seeing him do bigger and better things was, in my mind, positive reinforcement in regards to my horse's form and I could not be happier to see him make it to the winner's circle.
Phantomofthefrost debuted in a MSW at Aqueduct on the 9th of February and finished second. He is a New York-bred gelding by Frost Giant and out of Athene (Roman Ruler) owned by Sunrise Stables, and the second horse that Andy Cohen has sent me – the first did not make it to any races. This gelding is a rock solid type to take on the New York program. We've had a good bit of success with the progeny of Frost Giant and this horse looks like he's got quite a level of ability. I'm looking forward to seeing him develop with continued training.
With the weather in New Orleans being quite shoddy, Ninety One Assault has had an interrupted winter season. He ran in Race 8 at the Fair Grounds on Sunday and came up fourth on a sloppy track. The track had been sealed, but it was certainly not an ideal scenario with the weather and wide trip. No Richie faced the same conditions earlier that day. However, considering we could not come up with a turf race for him and he had to settle for dirt, he did manage rather well under the circumstances, finishing second at 6-furlongs. Later this month, I'm hoping to send Schivarelli to the Sam Houston Sprint Cup and will welcome back Westerdale, who was given a 30-day freshening after two encouraging starts in New York. He will point to a mile maiden on the 25th of February. In the meantime, I'm really hoping the rain stays away.
In other news, while it was very difficult to root against Tom Brady due to the extraordinary things he has accomplished in the NFL, it was exciting to see the Eagles win their very first Super Bowl and defeat the Patriots, the exact team which beat them back in 2005 in their second attempt. I am sure Brady will find a way to live with himself and his six Super Bowl rings back in New England. Where on earth does he store those things anyway?