The Ups And Downs Of The Racing Game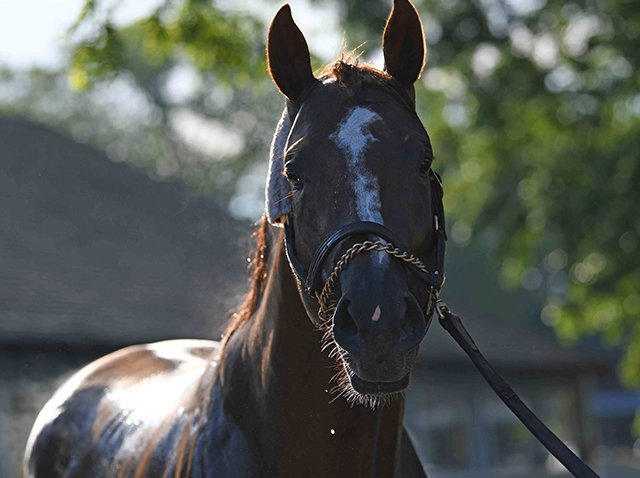 Having had a relatively consistent start to the year, winning races on a regular basis, we seem to have hit a little bit of a dry spell over the course of the last six weeks. Some unlucky trips and a couple disappointing circumstances losing a race or two in the stewards room over the course of the last six weeks. But luckily our barren spell was broken thanks to Tricky Zippy, who won a six-furlong Allowance Optional on dirt at Delaware Park last Thursday, June 22. Though she is probably not the force that she used to be, she is a very good filly with plenty of ability. She showed a lot of guts going past a very competitive field and won going away by 1 ¾ lengths. Congratulations to owners Newman Racing on the win!
We are going through a bit of a cyclical change, as many barns go through during this time of the year. A lot of our horses that are in are two-year-olds. Some of them are coming up to being nearly ready to run, but a good few of them are still 6-8 weeks away from making a start and others perhaps even farther away.
All in all, most of our horses seem to be turning a corner and running into a little bit of form at the moment. I am still hopeful that we can finish the Belmont meet in a stronger fashion than we have managed so far.
Obviously, at this time of the year, Saratoga is coming into focus. And, as we all know, the races at Saratoga are desperately competitive. It is a meet that Todd Pletcher specifically targets with his juveniles and so do a lot of the other trainers. There is no hiding place for any horse at Saratoga, every race is as competitive as you can possibly imagine. A lot of horses take a drop in class to make sure they get a win, and this year more than ever I suspect the competition will be hot. I do think we have better quality two-year-olds and am looking forward to seeing how they stack up over the next couple of weeks.
We had a busy breeze day the other morning as I am hoping to get about 6-8 horses ready to make a start before the end of the Belmont meet. It will give me a better handle as to where they are in terms of other trainers two-year-olds. Of course, you never really know until you run them who has what level of ability. The New York-breds that we bought are a strong group of individuals, so I am looking forward to taking on that division up at Saratoga.
Belmont Stakes week was wonderful and was what I believe to have been the best carded and best run fields anywhere in North America so far this year. It was wonderful to see Songbird come back to the track a winner in her four-year-old debut as it was watching Mike Smith put on an exhibition of riding excellence. As for the California trainers coming over and winning all of our races, I hope you all stay in California next year! No, but in all fairness, Bob Baffert and Peter Miller did a tremendous job of bringing extremely talented strings here, not just on Belmont Stakes day, but also through the entire Belmont Stakes festival. It was a wonderful spectacle and very enjoyable.