Back in Action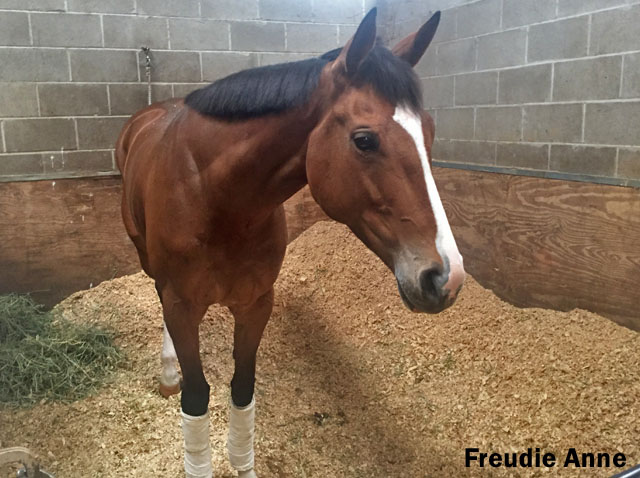 What in the world happened to February this year? I feel like I blinked and it was over! A lot has happened since my last blog, but let's start where we left off, which was the Fair Grounds quarantine…
After a forced sabbatical from running our horses at the Fair Grounds, the quarantine on our barn was lifted on February 3 and we were allowed to get back into action. I've been extremely happy with the way our horses have run since, although a few of the horses have run a tiny bit short, almost like they needed the race.
Kiss the Toad is a great example. On February 11, he looked like he was going to get the job done and just got nailed late. Freudie Anne is another – though she went on to win – I thought would win by three or four lengths, but she just barely hung on. Glorious Empire and Birchwood Road also ran very well for a mile and then just didn't finish in the manner I had hoped they would. You know what, though? It's understandable. We were asking a lot of our Fair Grounds runners considering the quarantine ordeal. They all needed to run the way that they did in order to get back into the swing of things. The great news is they now look tremendous.
Tiyo is a filly by Gio Ponti that was also affected at Fair Grounds, except she did not show it. It's always wonderful when you train for owners that have homebred horses and they go out and win. Tiyo, who has had a very start/stop career so far, broke her maiden on February 17 going 1 1/16 at Fair Grounds. She showed us the ability I always knew she had when she finished second as a juvenile at Aqueduct on the grass, but then had a much interrupted three-year-old campaign. She got pretty chewed up by Gulfstream's supposed turf course that winter and came back to run a good, solid fourth at Belmont, got a hairline fracture of a tibia and ended up having to have a lot of time off. She was actually ready to run in December but we couldn't find a place to run and then our barn went into quarantine. Her patience was certainly rewarded as she went on to wire the field with jockey Sophie Doyle, over a distance that perhaps exceeded the filly's preference. She came out of the race in good order and I am really looking forward to bigger and better things with her.
I am predicting big perfo
rmances for March. We have started the month off with Freudie Anne once again proving herself amidst top competition. She went out this past Saturday (March 4) to beat multiple Graded Stakes Winner I'm a Chatterbox – who finished third – by 4 ¼ lengths, going one mile on turf and she did it in gate-to-wire fashion.
Delve will make her U.S. debut tomorrow, March 9. She was sent to us by James Wigan and is a big, strong, beautiful filly by Dansili, who is a British stallion known to produce horses that do well in North America. The goal is to have her attain some black-type while she is on this side of the pond. Watch for her in race 5 at Fair Grounds tomorrow. Goldenmeyer and Aktabantay (GB) will start tomorrow as well, also at Fair Grounds, in races 3 and 8, respectively. Bust, who last broke her maiden on February 17 at Aqueduct, is scheduled to run at Laurel on Friday, and Flying K C will run at Fair Grounds on Friday. Lots of action for Team Morley in the next few days!
Baby Grace is enormous! Well, she's not enormous, but she's growing very fast. Maggie and I enjoyed Mardi Gras and got to ride on a couple floats in parades that took place February. I took care of Grace while Maggie was on her float and then vice versa. It was quite a bit of fun; lots of beads were thrown.
We are now back in New York and excited to report that our New York division will see some exciting horses come back off layoffs. To name a few: Edge of Reality, Ardmore Bay and Beltany. As for George — he is delighted to be home tormenting squirrels and rodents.
Alright everybody, that's it for now; I am being summoned for daddy duties. Next up, we'll talk about Ocala and my OBS adventure to find some new talent. Keep a close eye on the blog!