Summer is Here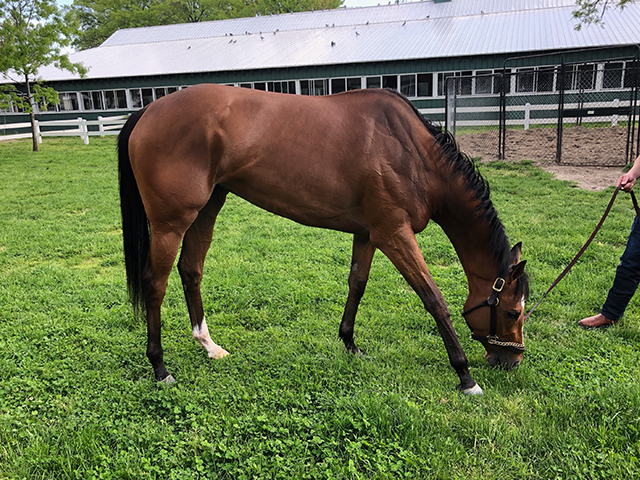 After what felt like nine months of relentless rain, the last couple of months have brought much sunnier weather. But I suppose I do need to start with some sad news and that is that La Moneda's racing career is over. During a routine canter on the training track at Belmont, she got a hairline fracture to a sesamoid and, being a 6-year-old and a multiple stakes horse, it was decided that rather than pursuing a career as a 7-year-old it was time to pull the plug and retire. Incredibly sound filly I owe an awful lot to, she's given us some big thrills including winning the Yaddo at Saratoga in August of 2018 and I can't thank her owner, Patricia Moseley, enough for the opportunity to train such a fantastic daughter of Freud. I'm hoping her sons and daughters are half as good as she is because she's been an absolute stall walk for the barn over the last two years.
On Kentucky Derby day, Tony Small managed to get himself into the 14th race at Churchill Downs to run on what can only be described as a soup bowl. Definitely not the best of circumstances, but he ran a very creditable fourth against older horses in a maiden special weight in the middle of the night.
Things started to heat up toward the middle of the month in New York, we had a handful of runners between the 16th and 19th of May finish in the top three placings. Duncastle missed out by a very short head on the 16th, and later that day Xanthique (who I go into detail about towards the end of this blog) won by 4 ½ lengths in her first start on the turf and going long. Psychic Energy finished third on the 17th and then Impazible Odds, who is a little grey horse by Mission Impazible, broke his maiden on the 18th after having had a couple seconds and a third, so it was nice to see him finally get the job done under an excellent ride from Junior Alvarado. That was race 9 at Belmont, but earlier in the day, in race 5, Reylu Gutierrez rode Sams Last Ghasp to a win in his first start for the barn. Sams Last Ghasp is a New York-bred by Heavy Breathing and out of Shoot the Bugler, by Yes It's True, and a homebred of Andy Cohen's Sunrise Stables and Golden Goose Enterprise LLC. Looking at his pedigree he has a significant amount of turf in there, so a chance at the grass may be in his near future.
We picked up a couple of colts with potential at the Fasig-Tipton 2-year-olds in Training Sale in the middle of May at Timonium in Maryland. A Carpe Diem out of Hello Charlie was purchased by the Elkstone Group, and a Palace Malice colt out of Tale of Glory was purchased by VinLaur Stables and three new clients from Manhattan. Both colts came straight to Belmont to continue their training and several of the other 2-year-olds have started to come in as well. Quantico from Mr and Mrs John O'Connor, and two from Robert Masiello: Zilch, who is a son of City Zip, and Total Fidelity, a daughter of Freud. All are going quite nicely.
Oh My Papa, a son of Discreet Cat, drew the outside post position for an Allowance on May 30th at Belmont where he reunited with Junior Alvarado and finished third. Zinger and Compagno butted heads on the lawn on June 1st and finished 10th and 2nd, respectively. Determined One added a shadow roll on June 2nd and finished 7th in a Maiden Special Weight also at Belmont and with new pilot Junior Alvarado. I was very much looking forward to seeing this colt run second time on the grass, he is extremely green and missed the break first time out. Didn't quite do what I was hoping he would this time, but he didn't have the best trip either. He went out to chase the leader, got bumped around and then tired. He will go on to fight another day.
June brought an upheaval of many types with Royal Ascot taking the cake. I took the red eye out of New York on Sunday, June 16th and landed in London on Monday with the goal of trying to purchase a horse at the Goff's London sale held at Kensington Palace Gardens. Sadly, having put together a syndicate of people to purchase the horse, the horse had been withdrawn from the sale, so that rather negated the trip but it was great to spend the week with my brother Henry and his wife Nicola and then attend the races with Henry. It was fantastic racing even though the weather was absolutely brutal and the ground was soft, which is never ideal for Ascot as you're always looking for a good or good-to-firm sort of surface. The track crew there did the most fantastic job of keeping the turf in as good of shape as possible, but I did walk the track all three days and it did get progressively softer as the days went on. By the time Wednesday came and presented the option of running Henry's 2-year-old, it wasn't really a surprise to see his horse withdrawn due to the fact that he probably wouldn't have really relished the conditions, which I would have considered extremely heavy if it had been in the US. Nonetheless, I caught up with a lot of friends and clients and had a very enjoyable time. Royal Ascot is the most magical meet that you can ask to attend, not just because of the standard of racing, the pageantry and tradition is just second to none. It really was a wonderful three days.
I spent Thursday night with my mum and dad before flying home to New York on Friday and missed a winner while I was in the air. Johnny Wishbone (Tapizar – Indian Love Call, by Cherokee Run) is a gelding who experienced some misfortune last year, ran in a maiden at Laurel going long, which he probably doesn't want to do, and then was a bit disappointing at the Fair Grounds. We gave him some time off after he came off of the turf a little bit sore, not lame but just body sore all over and he was a horse we had bought at a 2-year-old sale and had gone straight to training, so he needed a bit of a break and we took that time to geld him as well, brought him along steadily and entered him in a maiden on June 21st which he won after battling. I was delighted to see him show some extra fight and it was extra special because it was actually Benjamin Hernandez's first winner for the barn; Benji's worked for me for a number of years prior to taking his jocks license back out. Having had a very productive winter for other people, he had ridden a string of seconds for us, so getting him into the winner's circle on one of our horses meant a huge amount to us in the barn and also to him.
Satuday, June 22nd brought three horses to the starting gate. Ten Eyck looks like he needs to take another dropping in class and will point towards a race a Laurel for his next start, but Duncastle did extremely well for himself in a very hot maiden special weight running third. He will drop back into a maiden claimer at Saratoga and hopefully we will get a win with him up there. The most impressive of the weekend was by Xanthique (Into Mischief – Qualia, by Saarland), a filly we claimed for $50,000 out of a maiden in the winter and had been sprinting on the dirt. She has a pedigree that certainly implied she possibly wanted to go further and may even want the turf as well. She's now 2-for-2 since we claimed her, having broken her maiden on May 16, she came back in an Allowance on Saturday and was far and away the best horse in the field. She didn't have an ideal trip being stuck outside, she never really got cover and ran a bit free the whole way around there, but was still good enough to go two or three lengths clear at the top of the lane and hold off the challenge of a nice filly who had run and been beaten by only four lengths in a stake in Florida over the winter. Very encouraging to see her do well. I'm hoping she will go on to do bigger and better things.
Photo: Xanthique grazing at Belmont Park