Summer in Saratoga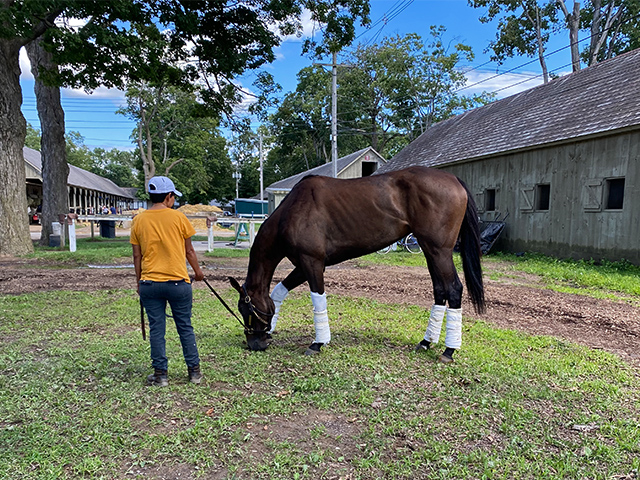 The Belmont meet was fantastic for the barn; we had a lot of horses run very well and had good momentum going into the Saratoga meet. This year we are following similar guidelines as we did last year by keeping the majority of our horses at Belmont — due to the fact that our staff stays there — and rotating 10 at a time to run at Saratoga. This means a whole lot of hours on the freeway for me; I spend Mondays, Tuesdays, and Wednesdays at Belmont before leaving to get back to The Spa in time for the races and staying through the week.
The start of the meet is always a stressful time as you want to get off the mark early and get a win. It was great to get into the winner's circle for Patricia Moseley when Social Whirl broke her maiden on July 22. Mrs. Moseley sent us the fantastic New York-bred La Moneda a few years ago, so it was wonderful to get this filly's maiden win up here on opening week. Fantastic effort from Social Whirl and lovely ride by Javier Castellano. Just this past weekend, the pair came back to win their second and back-to-back win of the meet on August 15.
We've had a couple of horses run disappointingly up here and I think they possibly didn't settle in as quickly as I would have liked them to. Ocala Dream ran very flat in the New York Stallion Series Stakes Cab Calloway and Hohohoho ran a similarly flat race on August 4. It was great, however, to get our first win in Saratoga for Flying P Stable as Full Court Press won impressively on August 1, his second win of his career. He's been claimed and moves on to trainer Horacio DePaz and Take a Shot Stables — we wish him and his new connections the best going forward.
The Whitney Stakes turned out to be a race to savour with Swiss Skydiver, Maxfield, and Knicks Go squaring off, By My Standards and Silver State, two extremely accomplished horses, joining them. It was a short field but a really, really strong one in terms of depth. Knicks Go set the pace and held it comfortably to beat the filly, who tried to challenge him but ultimately finished fourth. Congratulations to his connections on the victory.
The girls are loving their time up here. Grace and Willow started at Faith's House, which is the equivalent of the Anna House at Belmont Park. Willow took a good couple of days to settle in but now really enjoys going every day. Maggie, as always, is just rocking it on FOX Sports and the associated channels for their shows.
The Fasig-Tipton Saratoga Sale was last week — we didn't buy anything — and the NY-bred Yearling Sale wrapped up yesterday, August 16. Will be going over how it went and which horses we've added to our barn in the next blog.
Short blog this time around as this time of year is very hectic for me. It's great to have a crowd back and wonderful seeing so many familiar faces in person again after so long. If you're on the backside, stop by for a quick hello.
Pictured: Full Court Press having a snack