Summer At Its Best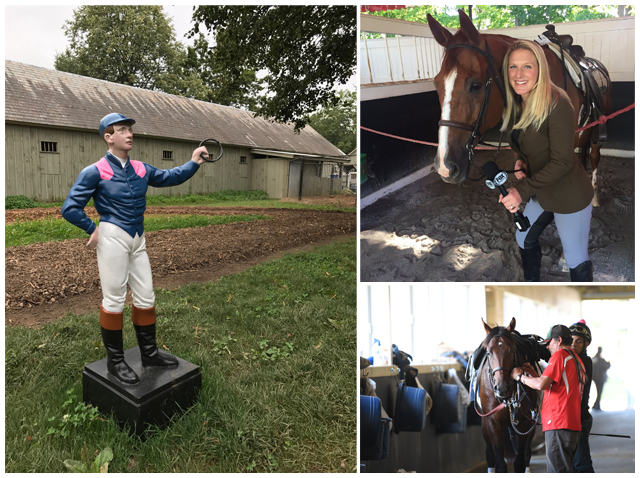 A huge part of each summer, for those of us on the east coast, is the Saratoga meet – a seven week marathon in upstate New York at the most iconic racetrack in North America, in my opinion. This place has seen some of the most extraordinary equine performances, and we were lucky enough last year to see the unveiling of Arrogate, and the year before that the defeat of American Pharoah. Saratoga is an incredibly big deal to everyone in this industry; owners, trainers, jockeys and fans. It's a track where you can count on seeing extraordinary things. One of my annual goals is to not leave Saratoga without having won a race at the meet. So, it is great to get off on the right foot.
Climb the Ladder ran a heck of a good second last Wednesday in a Maiden Special Weight to a very expensive filly of Danny Gargan and Mid West Thoroughbreds. The Merrylegs Farm homebred looked like she was going to give the favorite a real run for her money at the quarter-pole when she angled up alongside, but Kendrick Carmouche fundamentally had more horse and we were an extremely good second.
The two-year-olds are beginning to show their hand now. We've run half-a-dozen and those that I thought would run very well have run very well. We have yet to win a two-year-old race this year, but I think four of them have hit the board from those six starters, and they should all go very close in their next start. It also fools me a little bit more how they guide to where we're at with the two-year-olds when they're running well early. It means that you know who in the barn might be better or worse than those you have already run.
Colonel Andy broke his maiden on July 28 and a year to the day after we claimed him. Even though we were cutting back in distance, I made a bit of an experimental move. I felt that we needed to make some sort of a change with him and decided to remove his blinkers after a year of racing with them on. Jockey Eric Cancel and I came up with a plan which Eric then executed beautifully. We were hoping that without blinkers on he wouldn't be so aggressive from the gate and we could then drop in behind a good pace and make a run at them late. He's a horse who tends to have a habit of leaning down into the rail when in the lane, I've seen it happen two or three times, and Eric decided that – having drawn on the inside with blinkers off – if he didn't make the lead, we'd sit chilly and hope for a gap on the rail. With good, solid fractions in front of him, Colonel Andy showed a lot of bravery and tenacity, sticking his head in front when it mattered and winning the race by a head. Superb handling from Eric, I have to say.
Every single win, every single year matters. The first one at Saratoga is very, very important because it settles everyone down a bit. You could see a spring in the step of the team the following day in the barn. We are not going to leave here without a win again. We've had a first and second from our first two runners up here, so hopefully we can continue on this path.
We have an extremely busy week ahead. To start, Birchwood Road ran in a phenomenally competitive NY-bred Allowance Race on Wednesday and finished 7th. Imperfect Union, who had an encouraging debut effort at Belmont going over six-furlongs, made her second start in race 10, also on Wednesday at Saratoga. She cut back to 5 ½ furlongs with Javier Castellano up and finished 5th against a bunch of maiden NY-bred fillies.
Today we run a Shanghai Bobby filly first time out called Lady Blessings, as well as a maiden NY-bred filly called Yonka, who will make her debut for us. Both have chances of winning this afternoon. Beltany is in the sprint going 5 ½ furlongs on the grass, which I think he will run well in. Since coming to us from Bob Baffert, he has been very aggressive; almost too aggressive. He is finally learning how to relax, so the key on Friday will be to try to get him to drop in behind a horse to take a lead early and see if he can finish. He ran credibly going 7/8ths on the turf at Belmont, on turf that was softer than ideal. I'm hoping he puts on a big performance for us on Friday.
We will be running in four different states this weekend. Edge of Reality goes to Penn National on Saturday for the second leg of the Pennsylvania Sire Stakes Series. Ardmore Bay runs in an Allowance at Suffolk Downs (MA). Freudie Anne runs in the Fasig-Tipton De La Rose Stakes at Saratoga (NY). And, Keep It Up looks to run in a Maiden Special Weight at Laurel (MD).
Maggie is working extremely hard while she is here and baby Grace is enjoying her first visit to Saratoga for the meet as well. So, between her teething problem and a host of equine action, I am certainly not finding too much time to spend on the lake or out at the bars on Caroline Street.