Strong Finish to Saratoga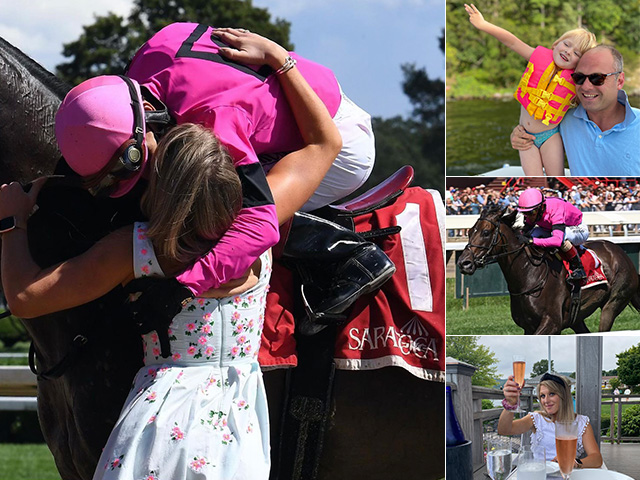 The second half of the Saratoga meet is always a little bit calmer than the first. The beginning of the meet there are a lot of members of the general public and enthusiastic owners that descend on the town, and it tends to get fairly social. With the two Fasig-Tipton sales going ahead this year at Saratoga, it was great to get back on the sales grounds and do the legwork for both the open and NY-bred yearlings. A very strong market meant that it was difficult to buy horses, but we successfully managed to pick up some yearlings at both sales, which is great. Once the sales are over and we head into the second half of the meet, the obvious highlight is Travers weekend, which also coincides with Maggie's birthday. There's a general Morley Family rule that we do not celebrate my wife's birthday until after the Travers, as it's one of her busiest days of the year. But to cap off what was an unbelievable weekend of racing, it was really great to be able to take Maggie away for the night at the Sagamore on Lake George where we had an absolute blast, just the two of us for the night, before coming back and taking the girls and family out on a boat on Saratoga Lake during the dark days.
Back to the racing front. It was a productive second half of the meet, though not always in the winner's circle. I felt that we really could have had an absolutely sensational meet had the weather not interfered so much. A couple of horses that deserve a mention, and it's not always only the winners that deserve these. I was absolutely delighted to see Tellaperfecttale come back to finish second on August 21 after having endured a pretty horrid time since we claimed her. On March 20, we ran her off the claim and she, sadly, took a very heavy fall over a horse who fell in front of her in the race. This, I really felt, dented her confidence. We did run her back in April at Belmont, but she was just a little bit gun shy about the whole thing. The Rubin brothers John and Paul of Mitsumrdream Farm were very kind to say, look let's give her some time and take her away from the racetrack environment. So, she went up to Mike Shrader for a reset and was out in paddock for a month. When she came back, she looked absolutely sensational, her weight was fantastic, and she just looked like a brighter, happier horse. She trained nicely into her race at Saratoga and ran her eyeballs out to be beaten by a nostril, which made us as a team very proud knowing that we'd managed to get this filly back in good physical and mental shape where she wanted to race again.
It was also extremely pleasing during the meet to see Snow Candy, our second horse for Santa Rey Stable, take a nice step forward in an off-the-turf Maiden and finish fourth. He was our first two-year-old runner of the year and, although very green on the grass first time out, was much more professional his second go and should move forward from there. Scott McDermott and Brian Conley of Santa Rey Stable have begun to get their teeth into supporting the barn and we really appreciate their support.
We were a little bit quiet the last week of August but knew we were lined up for a very busy closing week. And what a closing week it was. Big mention for Sweet Franny Lu, who I've always felt was a turf horse but got very unlucky with the weather having broken her Maiden impressively in the slop at Belmont. I made a mistake in the first race at Saratoga (on August 4) by telling Ricardo Santana to take on our other horse Hohohoho in the starter – both horses finished poorly. Closing day Dylan Davis picked up the ride and gave Sweet Franny Lu an absolute peach of a ride, improving her Beyer figure by ten points. She was a bit unlucky to get run down by Christophe Clement's filly, but, nonetheless, she ran a very good second.
Obviously, the big talking point at the end of the meet was Tell Your Daddy winning the Gr. 2 Bernard Baruch. This is a gelding that has done very, very well since we claimed him. We took him out of the Fair Grounds with a view to stretch him out from the five-and-a-half-furlong distance he was running at the time. Never in my wildest dreams did I imagine that he would get to the level of winning a Grade Two going a mile and a sixteenth, but he has continually improved for us with each race and has run some very solid efforts. Second in the Lure Stakes earlier in the meet, he came back here on ground that I thought would probably be unsuitable for him, but Johnny V. gave him a simply incredible ride to wire the field on the front end. Massive congratulations to Flying P Stable on the win and phenomenal meet. Tell Your Daddy will now point to the Gr. 1 Shadwell at Keeneland, which is a Win and You're In for the Breeders' Cup.
The NYRA has very kindly given us 10 days between the closing of Saratoga and the start of the Belmont meet. As a trainer of a small barn, I am a huge fan of this break as it gives us time to get everyone back, settled, and geared up for the start of Belmont. It's great to get back down here and get my teeth into training some of the horses I haven't seen on a regular basis over the summer. I'm pleased to say that everyone has shipped back well.
We are about to start a marathon that is the Keeneland September Yearling Sale. The morning of September 13, I fly to Lexington for a week where I will stay with Conor Foley of Oracle Bloodstock who does the vast majority of our legwork at the yearling sales, and together we will look to add some talented horses to the barn for next year. We have a number of orders, so I'm really looking forward to getting started. Slightly different format from Keeneland this year with Books 1 and 2 backing up onto each other Monday, Tuesday, Wednesday, Thursday. We then have a dark day, Friday, to catch our breath before continuing on to Book 3, 4, and 5. Very much looking forward to what is always a mentally and physically demanding week and what I describe as racing's NFL Draft, as it is vitally important and a very exciting time of the year because we get to go and select the horses we're going to train next year in our juvenile divisions.
Pictured: The final days of Saratoga 2021