The Start of Belmont and Our New Barn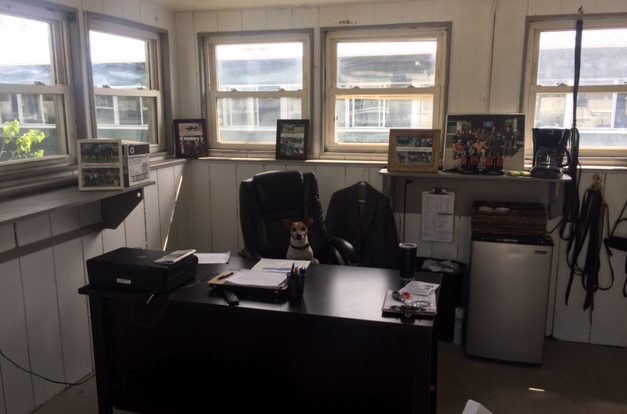 Opening weekend at Belmont was a little bit tough for the barn to take with Birchwood Road being defeated by a nostril on May 3rd, which was his first start in New York and first start since the Fair Grounds. Tough start to the meet with five of our horses hitting the board but no better than second, nonetheless the horses seem to be running well.
Things have been busy, busy, busy. Maggie and I went to Saratoga for the first time this year where we already have 16 horses in and some exciting looking two-year-olds. We had our first two-year-old – a horse named Walk and Talk – run on Friday, May 12, at Belmont and finish fifth in a Maiden Special Weight. He was ready to run, but is a horse I believe will be better on the grass. This year's two-year-old division looks like a very solid bunch of horses. I don't want to say that they are better than last year's, but they look rather superior. Obviously, it is New York; it is a tough place for two-year-olds having to go against the Todd Pletchers and Chad Browns. With that said, the horses I have in my barn certainly look like they are capable of holding their own and there is a very good number of state-breds amongst them, too.
Bluegrass Flag had her first work back from winning the New York Stallion Series, breezing a half-mile in :48.88 on dirt on Thursday the 11th. At the moment the plan is for her to run in the Bowerie, a 6 ½ furlong stake on showcase day, as a backup to the Gr.1 Acorn on the Belmont Stakes undercard. Showcase day is a day that we have a lot to look forward to… Freudie Anne, who is unbeaten this year, points towards The Mount Vernon, a mile stake on the turf. Tricky Zippy will look to run on the dirt in the Critical Eye Stakes, which is the same race that Haveyougoneaway was second in last year. I will also be having a look at the mile-long Kingston Stakes on the grass for Birchwood Road, who is a seven-year-old that seems to be improving. We will have a couple of other runners in the Maiden and Allowance races that day as well.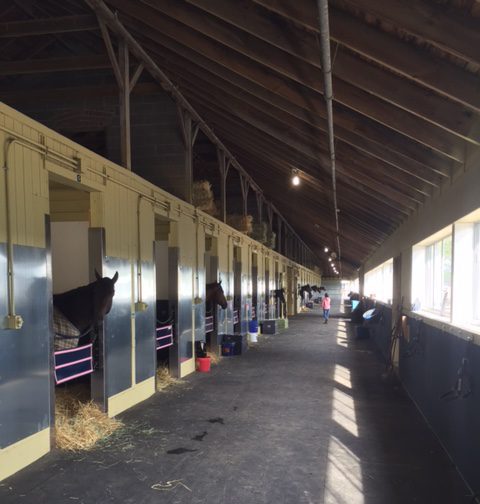 Kiss the Toad had an extremely solid work at Saratoga on May 9th, going a half-mile in :46.69, which was the fastest out of 35 that day. He will point towards an Allowance at the end of the month. I must add that I am quite pleased to hear that the horse that beat him in his prior start will be going to Royal Ascot. I genuinely believe that Kiss the Toad was very unlucky at Keeneland – he fell asleep in the gate while Wesley Ward's horse took forever to load and then missed the break, which cost him a fighting chance at winning. So, we'll see how my horse gets on here and how Wesley's horse gets on at Royal Ascot – they are two very nice sprinters.
Some exciting news: we are in our new barn at Belmont Park. I want to thank the New York Racing Association for the opportunity to be put up on what is known as "Millionaire's Row." We are now neighbours to Hall of Fame trainer Nick Zito and it is exciting to know that this will be our permanent base in New York, probably forever, to be honest. We have a lovely new area of grazing outside of the barn, a round-pen, everything you want when you are moving up the ladder. The barn is 12A for any of you that are wishing to come by to see it!
We remain in the same barn in Saratoga, barn 68, and have – like I mentioned – a really solid bunch of horses up there. Our two-year-olds up there have just started their breeze patterns and should all be ready to run during the Saratoga meet.
I am looking forward to a strong year with my juvenile division and hoping that they have an even better level of ability than in previous years. I have been very pleased with some of the works they have put in already and I am looking forward to seeing how they perform on the track in the afternoons.
Top right: George manning the desk in the office in our new barn at Belmont Park. Bottom left: Our new barn's shedrow.