Spring is in the Air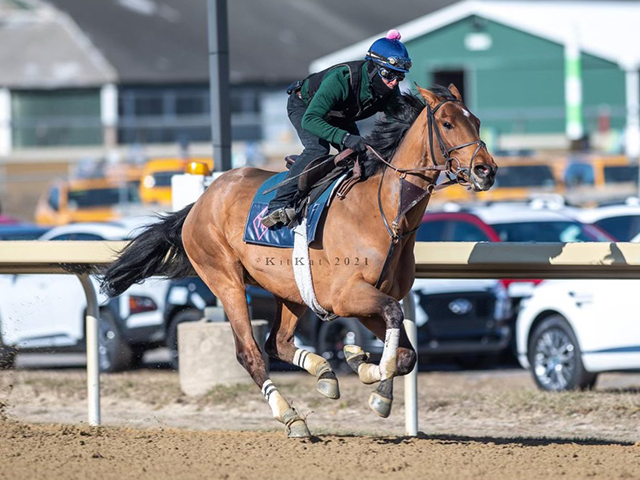 I ended the last blog with a note that I would start this blog off with Harvey Wallbanger's win at the end of February, so that is what I'm going to do. A five-year-old by Congrats, Harvey was victorious first off the claim at the Fair Grounds in an Allowance Other Than going 1 1/8 miles on dirt on February 25. Rather unlike him, he jumped out at the start and was given a soft lead. This is a horse who loves to close from behind, but Mitchell Murrill took the bull by the horns coming out of the gate and jumped Harvey onto an uncontested easy lead and he held off the fast-finishing speed of the Steve Asmussen, Stonestreet foe by a neck.
A few days prior, on February 21, Grit and Glory lived up to his name to win at Aqueduct under an unbelievably well-timed, well-executed ride by Trevor McCarthy, and on March 5 we had Ohyoudidntknow break his maiden under a similarly brilliant ride by Kendrick Carmouche. We've had several horses hit the board here and there throughout the month of March, so it was a productive month.
Ninety One Assault finally got to run twice at the Fair Grounds since I last blogged. His first run was on February 27 when he attempted to defend his crown in the Dixie Poker Ace Stakes. Ninety and Shaun Bridgmohan had a horrible inside draw and got no sort of a run being kept in a pocket by a number of other horses, Ninety never getting to really show his true colors, finishing fourth, beaten by 1 ¾ lengths, but still on the bridle at the end of the race. Paul Braverman and I took the decision at that point that we would give him a shot at the big boys and ran him back three weeks later in the Gr. 2 Muniz Memorial Classic Stakes going 9 furlongs on the turf on Louisiana Derby day – in the field was Colonel Liam, the winner of the Gr. 1 Pegasus World Cup Turf. I was absolutely thrilled with our eight-year-old warhorse who finished fifth, beaten a neck for third in the toughest race he's ever run. It appears that he has not lost any of his step through the years, he's a credit to us and the guys who do such a fabulous job of looking after him. He will now return to New York before getting his well-earned summer holiday at Patty Hogan's farm in New Jersey, which is his usual stop-off point for two months of green grass and sunshine on his back.
We wrapped up the Fair Grounds meet last week with Hohohoho and Joqular finishing fourth in their races on March 24 and 28, respectively. All of our Fair Grounds horses will now be returning to New York where I eagerly await their arrival. Normally I would have spent the meet in New Orleans with them, however, a couple of weeks ago I had to fly up to take over our New York string as Axelle and her husband William welcomed their new baby boy, Charlie. Congratulations Axelle and William!
OBS April is on the doorstep, I'm looking forward to adding to the two-year-old collection we have coming in for the year. At this time, some of our better grass horses are putting in some solid works at Belmont in preparation for a return to the turf. Spring is in the air and I'm looking forward to April.
Photo: Big Mountain galloping | KitKat Photography