Saratoga, The Sales, and The Secretariat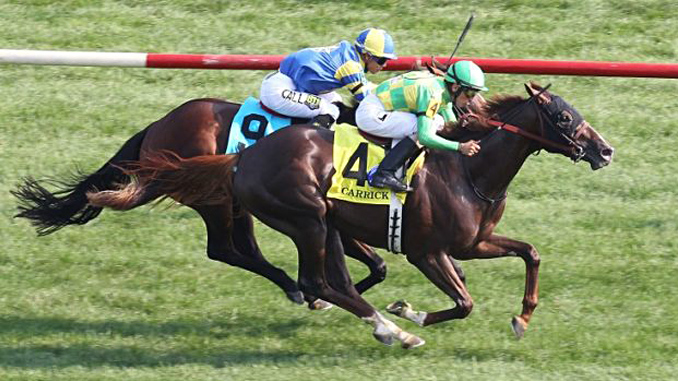 Sorry I've been away for so long, but this time of the year starts to get incredibly hectic with Saratoga and the yearling sale. No complaints on my end about being incredibly busy, it's not a bad thing at all.
We had a really solid end to the Belmont meet with Ten Eyck breaking his maiden by eight lengths going long on the turf, which was really terribly exciting for owner Paul Regan who was there that day and drives six hours religiously to watch his horse run every time. It was extremely gratifying to see the look on his face, but a lot of fun as well because Maggie interviewed him before the race just to talk about his small breeding operation up in upstate New York and what it means to be competing at places like Belmont and Saratoga. On July 22 La Moneda continued her winning run as we came up to Saratoga on opening weekend. She was absolutely devastating on the grass against open company 2x fillies and mares winning very comfortably under a hand ride by Javier Castellano. She is an absolute credit to my team in New York who have put in so much hard work with her. She will now get her first chance at stakes company in the Yaddo Stakes on August 24th and appears to have come to her physical peak. It's always nice to get off the mark early at Saratoga; it's our most important meet in New York and the place where people pay the most attention to your performances. To win on the August 2nd with Daring Prospect as well was very exciting. Daring Prospect is a filly who we claimed and was making her first start for us. She won very comfortably for owners Michael Lyden and Robert Murray.
The horses in general have been running very well up here, Ten Eyck came back to run third in the New York Stallion Series Stakes on the 6th, Causforcelebration ran a very good second on August 1st, Bluegrass flag ran second in an Allowance up at Laurel, Colonel Andy and Royal Asset also ran good seconds in claiming races on the 3rd and 6th, Royal Asset getting us all very excited as he led all the way to the eighth pole. At the 16th pole he was head and head and he just got beat by Sheikh of Sheikhs (trained by my old boss), which made the result slightly amusing, though much more amusing for Eddie Kenneally than for me.
We also dove into the yearling sale and having been to the July sale in Kentucky and the horses in training sale down there we then moved our attention to the two books up here, back to back over a course of eight days, 250 of the best bred yearlings to be offered annually in the United States and possibly anywhere in the world. We were lucky to buy at the sale, with Robert Masiello and West Point Thoroughbreds, a beautiful daughter of Medaglia d'Oro consigned by Lane's End – I can't wait to see her start the breaking process with Eddie Woods. Rob was extremely happy with both the New York-bred and Select sales, and I sincerely hope that his investment pays off in getting him into the winner's circle because he works incredibly hard and deserves the success to match. Also he sits on so many boards to try and benefit the horsemen and the thoroughbreds. Rob, I wish you all the luck in the world and can't wait to see you winning some of the bigger races.
During the New York-bred sale I was left with a little bit of a conundrum. Not only is it a very active sale for us but it also coincided with Carrick taking a big step up in class running in the Gr.1 Secretariat at Arlington Park. It was decided between Jerry Crawford and I that my work had been done. After his final work we made sure that he was sound and then Michelle took over and flew down on the Tuesday before the race. I want to say a huge thank you to Chris Davis and his whole team at Arlington, Chris and his girlfriend Sophie Doyle are very good mates of Maggie's and mine and it's really reassuring when you can ship into another trainer's barn who you know so well. Sophie and Chris both rode Carrick themselves while he was down there and it was extremely satisfying to hear both of their opinions that they thought the horse had arrived in top condition. So Saturday dawned on us and I was running around looking at yearlings at the sale. The day itself had been slightly frustrating as Ian Glass had been scratched at Saratoga due to the race coming off the grass and Raven's Rabbit was scratched at Monmouth also, but we finished our yearling looks, went home, had a shower, got changed and went to the sale.
Fasig-Tipton's Boyd Browning was extremely kind to allow me, Conor Foley and those of Team Donegal to watch the Secretariat in their private room above the barn area. What an incredible moment it was to see Johnny V. steer Carrick so effortlessly around the Arlington turf. We got a tremendous setup in the race with real good opening fractions of 22.80 and 47.27. Carrick had the pace he needed to run at in front of him and that allowed him to relax much better than he did in the Gr.3 Kent at Delaware. Johnny felt that he needed the Delaware race to get to know Carrick a little bit better and he got him to switch off beautifully, stalking favourite Analyze It down the backside. At the top of the lane it was a question of whether he was good enough to get by Analyze It or not and stamina came into play in the last hundred yards; that's the thing with all of these Donegal horses, they are bred and bought to go 1 ¼ miles or farther. I just feel that we outstayed Analyze it and nowhere during the gallop out did a horse get anywhere near Carrick. It was also particularly gratifying to see that he then ran a second and a quarter faster than the winner of the Arlington Million, which indicates what an honest pace the Secretariat was run at and what an impressive performance it was for Carrick.
Carrick came back to Saratoga and had two days off before going back to the track; he was full of himself jogging a mile. Future plans for are under discussion, but at the moment we are making sure all is well with him. Races like the Joe Hirsch and the Hill Prince (both at Belmont Park) are under consideration. Carrick is a horse that I believe may be a Royal Ascot type for next year; however, we are going to take this one step at a time and right now are just thrilled to have won the Secretariat.
We've got the end of the Saratoga meet coming up and it appears we have about 20 more entries to make. We will be running some of the two-year-olds who haven't started yet and hopefully be finding our way to the winner's circle once more. For now, it's back to work!
Photo: Coady Photography