Sales and Starting Back at Belmont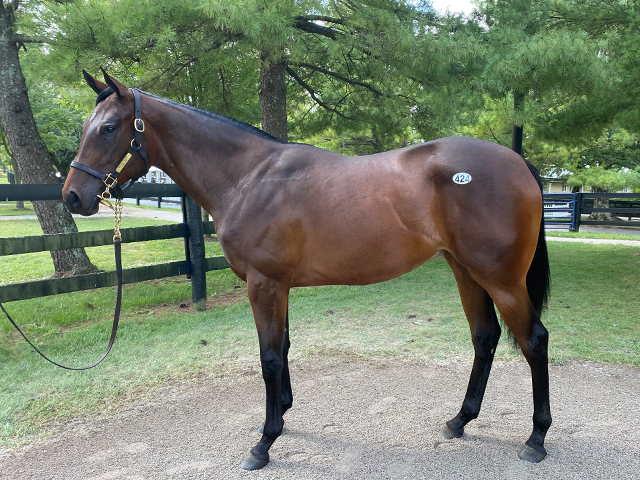 First of all, I want to congratulate both major sales companies, Fasig-Tipton and Keeneland, for providing extremely safe environments for buyers at their sales in Lexington last month. The health protocols in place and the fact that only buyers were allowed onto the sales grounds made for a dramatically smaller crowd and really put safety at the forefront. We started off with the New York-bred sale on September 9 at Fasig-Tipton, closely followed by their select band of yearlings that evening and all day on the 10th, and were lucky enough to pick up three New York-breds and two open company horses.
It was a tough spot for the New York-breds to be in as they are usually the boutique sale at Saratoga, and with Saratoga's meet ending on September 7, it was difficult for some people to get to the sale in time on the 9th; however, Fasig-Tipton did a fantastic job making sure you could see the horses remotely and bid over the internet and the telephone, and I felt that the market set itself during the Select Sale for what was to come over the next two weeks at Keeneland. A day off on Friday meant that I was able to go out to the farms in Lexington to see some of our younger stalk and also visit Xanthique, who was at Margaux Farm having a few days R&R in a field – she looked like she settled in quite nicely and got a good amount of grass. Big thanks to Amanda Motz for not only looking after Xanthique so well but for also doing such a wonderful job with Gregg Palesky's Nyquist yearling who sold for $200,000 on September 10 at the Fasig-Tipton Select Sale.
Saturday of that week was the beginning of what I called the 'Keeneland Marathon.' With six books of yearlings and over 3,000 head to be sold, there was an enormous opportunity to fill orders ranging from very expensive to lesser priced horses. I want to say a huge thank you to Joe Migliore, Nick Esler, and most importantly to Conor Foley and Jim Hatchett of Oracle Bloodstock; Jim and Conor and their team of Nick and Scott look at every single yearling on the grounds and substantially narrow down the list of horses that I need to look at, which allows me to spend more time with each horse to ensure we're making the best selections possible. Starting with book 1 and 2 you're still feeling fresh but by the time books 3-6 come along you've covered an enormous amount of ground on foot, looked at a lot of pedigree pages and seen a lot of yearlings in person. It's a very lengthy process, so it's important to stay as fresh as possible in order to do some really good buying.
I thought we bought wisely from books 2-6 at Keeneland, picking up horses for a number of clients. I'm delighted to send several of these horses to Sandhurst Thoroughbreds – a new operation headed by Nick Esler and Carl Allsop. The two have taken out a lease and will be based at Sunnyside Training Center in Morriston, FL. where they will be breaking 30 yearlings and have room for 40 horses. I think there's a real need for an operation that breaks yearlings and am thrilled to readily support them.
Belmont Park opened on Friday, September 18 and that was the day I chose to drive back from Lexington. I have to say that 12 hours in the car after working two weeks at the sale made for a very long drive; it was great to get home to the girls, Maggie, George, and the horses. Big thanks to Axelle and Juan who did a tremendous job looking after the horses while I was gone.
A couple of early disappointments in the meet were quickly rounded out on September 24 when Duncastle wired the field of $25,000 claimers on the grass. Jockey Luis Cardenas was able to jump out and get away with soft early fractions alone on the lead and that's pretty much when I knew the race was over. Duncastle has been an amazingly consistent horse and is relatively versatile for going the distance. He won by 1 ¼ lengths going 6-furlongs on the inner turf.
That same day, I was also thrilled with the way Impazible Odds ran a monstrous third after having had such a disappointing start at Saratoga back in August. It's amazing how some horses simply handle courses better than others. This horse has run very disappointingly a couple of times at Saratoga around a very tight turf track that can sometimes get a bit loose on top. As seen by his race record, Impazible Odds is absolutely in love with the Belmont turf courses and will point towards as many races as we can get him in during this meet.
On September 26, Last Judgment made a super debut for us stepping out of the training ranks and into a salty two other than. He finished a very good fifth, got no run at all but managed to get out the last hundred yards for an 89 Beyer first off the claim.
September 27 was a bit of a disappointing day as Ceant, the Uncle Mo filly for Donegal Racing, ran massive in a Maiden Special Weight where she clearly was the best horse in the race but, like Last Judgment the day before, just never got any racing room and finished fifth on the bridle, beaten only by a length. She's an extremely talented filly who I have very high expectations of going forward.
Our horses will be active through October, hopefully encouraging two-year-olds to run, and then we will start considering our options as to who will go down to Louisiana for the Fair Grounds meet. Ninety One Assault is aiming towards the Artie Schiller at Aqueduct on November 8 in preparation for the Louisiana Champions Day Turf.
That's it for now. Time to get my feet back under the table!
Pictured: One of our purchases at the Fasig-Tipton sale, hip #424 No Nay Never – Tomoohat filly