Christmas, New Year, and a Productive End to 2019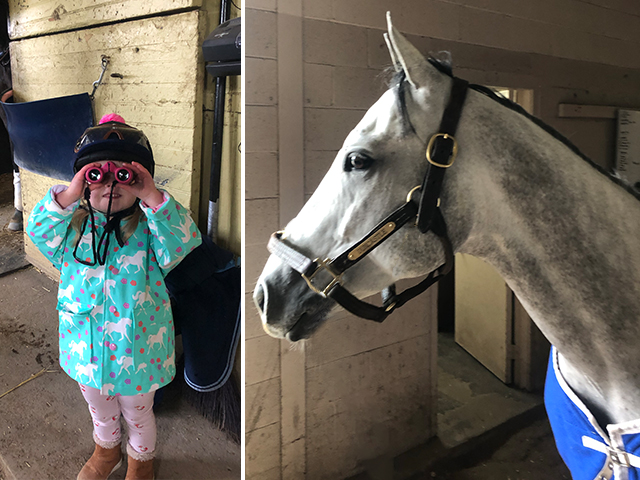 December was a busy enough month considering a lot of our turf horses had been turned out for the winter. We opened our Fair Grounds division by sending a handful of horses down to New Orleans on December 1 and have had a very productive start to the meet. We will come back to that in a moment.
It was lovely to see Keep Your Distance get a victory for long-time client Robert Murray on December 6 at Aqueduct, and Foolish Ghost run a solid third in an Allowance on December 5, also at Aqueduct, against open company horses for Pinnacle Farms Racing.
Maggie, Grace and I went to England for a week at the start of December and had our English Christmas a bit early with my family due to Maggie not being able to fly later in the month. We very nearly pulled off a hat trick on December 14 when Unrelenting Force was beat by two heads to finish a very good third in a Maiden at Aqueduct and, on the same day, Brush Country won by 7 ¾ lengths in the slop for Christopher Makris's Spartan Stables. The highlight of the day from a Morley-point-of-view was watching Ninety One Assault take the Louisiana Champions Day Turf, a $100,000 Stake at the Fair Grounds and a race we bought him to try and win three years ago and were 2-1 in favorite last year. To come back and win under a very good ride from Shaun Bridgmohan was extremely special. Paul Braverman and I own Ninety One Assault, who is fondly known around our shed row as Grace's College Fund. What made the win even more special was the fact that Maggie and I were in England and got to watch the race with my mum and dad, Billy, Henry, and both of their wives, all huddled around the iPad after dinner at mum and dad's house in Gloucestershire. Dad's been a huge supporter of our barn and loves his racing, so it was extremely special to watch such a high-profile victory of a horse that is obviously like part of our family.
A couple of days later, on December 18, Duncastle finally broke his maiden at the Fair Grounds and then ran back exactly two weeks later to win an Allowance race on New Year's Day, January 1, under jockey Florent Geroux. With three starts at the Fair Grounds and three wins so far, 2020 is off to a delightful start, and long may that continue. Duncastle's next start will be a race on January 30.
I'm hoping that an Allowance race for Ninety One Assault will run on January 10 as it would be perfect timing between the Louisiana Champions Day Turf and the Stake race in February for Louisiana-breds that is his next main target.
Having had a wonderful time in England we returned home to welcome Maggie's parents to New York for Christmas. Christmas with a 3-year-old really reinvigorated the day as a whole. Grace, for the first time, really understood what Christmas spirit was about and sung beautifully in church on Christmas morning before making a monstrous mess of the house with wrapping paper and boxes all over the place. She was particularly pleased to see that Father Christmas had drunk the whiskey and eaten the mince pie that she left out for him, and all in all, Christmas was incredibly joyous.
We've rolled into the new decade with our best hoof forward and have a relatively quiet January planned with about 10 runners, some turf horses coming back in and some young horses looking to start in 30-or-so days.
I'm looking forward to seeing how Ninety One Assault gets on at Fair Grounds. Bella Rose returned to the barn on January 2 and Translate had her first 3/8ths back from a minor setback that occurred late in her 2-year-old campaign. In the days to come, our Secretariat winner, Carrick, will start back quietly under tack at the Fair Hill Equine Therapy Center. I'm hoping to see him back with us later in the year at Belmont.
I'd like to take this opportunity to thank my staff for all that they do for the barn and our horses and wish all of our horses a very happy birthday. From all of us at Tom Morley Racing, happy 2020 to you and yours.
*Keep Your Distance was claimed by trainer Gary Gullo and owner Prestine Racing after his win on December 6, 2019.