Negotiating the Weather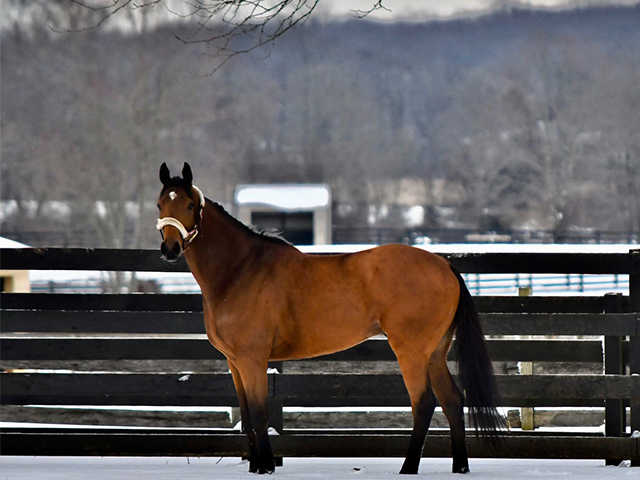 It's not just in New York that we've been dealing with strange weather this year as we've seen Oaklawn have two feet of snow and have to cancel their Southwest card twice, and even as far south as Louisiana has had frost delay training and present problems for turf runners. The whiteout in New York continues. We've had to tailor the training of the horses carefully to the weather conditions but fortunately here we're prepared to deal with these conditions and haven't lost too many days of training.
January rounded off with Dark Money running an enormous second first off the claim on the 21st, receiving an 86 Beyer. He then came back three weeks later in mid-February and won at Aqueduct by six lengths, again running another 86 Beyer on February 13. The day before, Remoane, who's been a slightly frustrating filly, got off the mark and broke her maiden by a length with Trevor McCarthy up at Aqueduct. Tiny Magoo ran second beaten by the smallest of nostrils on her first start for the barn on February 5. So, a couple of back-to-back winners in what has been a relatively quiet month for our barn.
The turf has been extremely trying in Louisiana and Ninety One Assault has found himself scratched three times so far this meet at the Fair Grounds. The conditions can be a bit frustrating this time of year but not at all surprising. Fingers crossed Mother Nature will be on our side on February 27 so he can run in the Dixie Poker Ace S., a race he won last year.
A lot of the grass horses have returned to New York and have started preparing for their coming turf season after their well-deserved holidays. Negotiating with the weather forecast this month has been tricky. As a trainer the weather can be quite a stumbling block when it comes to planning weekly schedules for the horses and training.
I went down to Ocala earlier in the month and was extremely pleased to see some of the two-year-olds moving in the right direction. A visit to Sandhurst Thoroughbreds was very productive and I was thrilled to see Nick Esler and Carl Allsop doing a fantastic job running their operation, they are two outstanding horsemen who have certainly hit the ground running. We have around 11 horses with them between the two-year-olds and some of the older horses. Xanthique recently arrived for a month off as did Duncastle, who will be staying for a month's vacation after a very productive 2020.
It's the final weekend of the month and I'm hoping we'll end it on a productive note. Chambo, Harvey Wallbanger (will cover his win in the next blog), and HoHoHoHo ran on Thursday and Ninety One Assault and Sweet Franny Lu will close out the month of February with runs on Saturday. All in all, the horses that are running are doing well and I'm looking forward to the month of March.
Pictured: Malthael on holiday