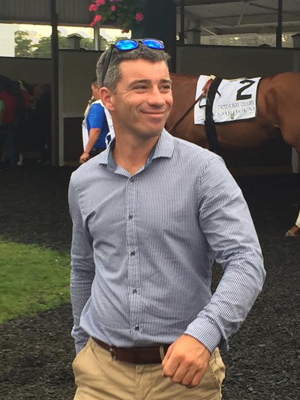 A racing fan since he was a young boy, Mark joined Team Morley in September 2016 and comes to us with many years of experience in the industry. Born and raised in Ireland in Kildare — world famous for it's horse racing — and was introduced to racing by his parents, who took him to the Curragh horse racing course. By the age of five, he was hooked. He started working with horses when he was in high school then left for college to study architecture. But his heart wasn't in it. He dropped out, packed his bags and took off to Japan to work for Green Hills Farm. One year later, he found himself riding horses in Australia for trainer Kevin Connolly.
He came to the United States thirteen years ago and just rounded out his third year working for Graham Motion. Now, Mark relies on his experience to carry out his duties as an assistant trainer for Tom Morley Racing. He's up by 4:00 am and at the barn shortly after to feed, prep any supplements and medications, handle the set list, oversee the staff and make sure all is going well.
Want to catch a glimpse of Mark? You best make your way out to the barn, because aside from eating and sleeping, there's not much he does elsewhere.