June and Royal Ascot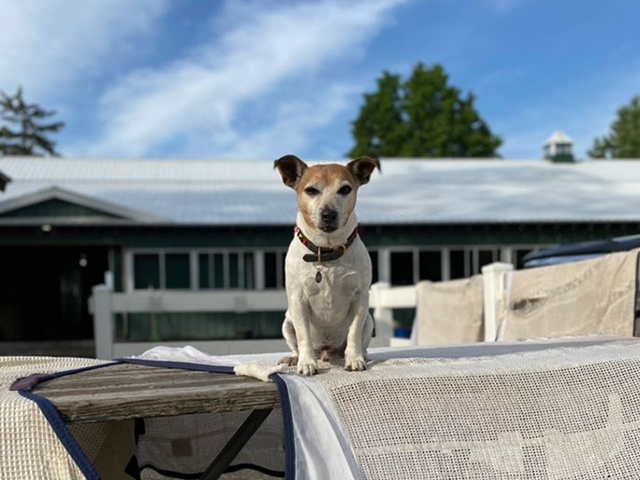 It was always in the diary for Maggie, the girls and I to go back to England to spend time with family. On arrival we were greeted by glorious English summer weather, but sadly it only lasted a couple of days before the heavens opened and Ascot was reduced to soft ground. The weather, however, took nothing away from a great week of racing. It was nice to spend time with my family, and dad and I had a lot of fun watching the races. I wish he'd been able to stay up for evening racing in New York because the end of that week went really well for the barn, and I couldn't have been prouder of my team and horses. It started on the afternoon of June 17 with Flashing Red running a gutsy second, this is a filly we claimed in a Maiden 20k last year, we won with her in an Allowance 50k and here she ran in an Open Claimer 32k and just got beaten by a length in a trip that wasn't her best. She did get claimed and we wish her new connections all the very best. The same afternoon, Full Court Press bounced back to a semblance of good form running third; he looks like a three-year-old who's beginning to progress in the right direction. Those two were decent performances before we moved on to the Saturday card which went as well as I could have possibly hoped. It was great when I picked up the PPs, I felt that all three horses had very live chances, so to come out of it with two wins and a third was excellent.
But the real highlight of that weekend was Ocala Dream winning the New York Stallion Series Stake on June 19. Cutting back to seven furlongs was a question mark for me, but Junior Alvarado felt enormously confident that the horse would be just as effective as he has been at a mile and a sixteenth. He took up a lovely position stalking the leaders all the way down the backside and made the front at the top of the lane before clearing off to win quite comfortably. At no point did the second-place horse ever get by him galloping out, he was extremely tough to pull up. This is a really progressive three-year-old colt. I'm delighted to have him in the barn. He will now point to the Cab Calloway at Saratoga on July 28.
Joqular also won the same afternoon for Homewrecker Racing. Ron and Ricki Rashinski's filly is another successful claim and, though she did get claimed away from our barn at the conclusion of the race, it was nice to send her off with a win. We wish her and her new connections all the very best. Back in the middle of May, Hohohoho was the subject of an extremely controversial DQ, which was appealed unsuccessfully with the New York State Gaming Commission. She stepped up in class on June 19 to face older fillies for the first time, in a protected spot – a Starter Allowance. Pressed hard on the front end by an outsider, which probably took away from her finishing kick, she galloped to a very gutsy third. I was very pleased with the effort, it certainly showed that she fit in very well with the competition.
We got back to America on Monday, June 21 and back to the barn the following day to find the horses and staff in really good form as everyone had enjoyed the success of the prior week. It's always difficult when you're away, but it was fun to be able to watch it all unfold while sitting next to my mother and father and brothers in England.
The weekend of June 25 finished up with a bang with a really honest second from Time to Testify first off the claim; he's a horse we claimed for thirty and ran back for forty and has now moved on to Mike Maker. The same afternoon Repo Rocks, who proved extremely frustrating because of the amount of ability he shows in the mornings, finally put it together and won the fifth at Belmont under an absolutely world-class ride from Irad Ortiz. This colt had disappointed me a couple of times in Maiden Special Weights. Bill Mott and Lee Einseidler, who previously trained and owned him, expressed that the horse had done the same with them, often doing much more in the mornings than in the afternoons. But Irad got a superb stalking trip that day and really never gave the horse a chance to think what the end result was going to be. As soon as he pulled him out, he rode hard for the last three-sixteenths and Repo Rocks finally broke his maiden, returning an 88 Beyer, proving that he is very much on the right path. He will target a Starter Allowance at Saratoga at some point when it becomes available – it's not in the first book.
Sweet Franny Lu broke her maiden this past Saturday, July 3, also with Irad Ortiz up. This is a New York-bred filly who I had to be extra careful with early to not negatively affect her mentally. She took a little more time to get ready and I kind of left it up to her to develop herself on her terms. Axelle and Enrique also did a wonderful job helping to prepare her and she really stepped into her own, which made the effort even more rewarding. Sometimes horses just need you to be a little more patient so they can figure things out themselves.
A lot of the juveniles are gearing up and they look like a very solid crop of big, scopey individuals, so that's very encouraging. It's always nice to welcome Ninety One Assault back from his holidays; he rejoined the barn on June 20 and will be aiming for a hat trick of Louisiana Turf Championships in December. He's currently an eight-year-old and will be nine in January, so depending on how this season goes, this may be his last go at racing, not due to unsoundness or anything of that nature but purely because he's mine, I feel he owes us nothing and I'd love to see him have a successful second career. He's a beautiful moving horse who I think would love jumping and I'm quite keen to see whether he could take to Eventing before eventually coming home to be my pony.
Saratoga is a week away. We actually don't have an awful lot of horses to run between now and the end of the meet at Belmont, so we'll be spending this time getting ready to head north. We'll be doing the same template as last year where we took a small number of horses up each time, ran them and then sent them back to Belmont. Axelle is back to work, which is fabulous. She will be running the Belmont division while Juan and I head north to Saratoga. I hope everyone had a wonderful fourth of July holiday. I look forward to seeing many of you at The Spa very soon.
Photo: The devilishly handsome George