Guest Post: Training – The Heart of Racing Success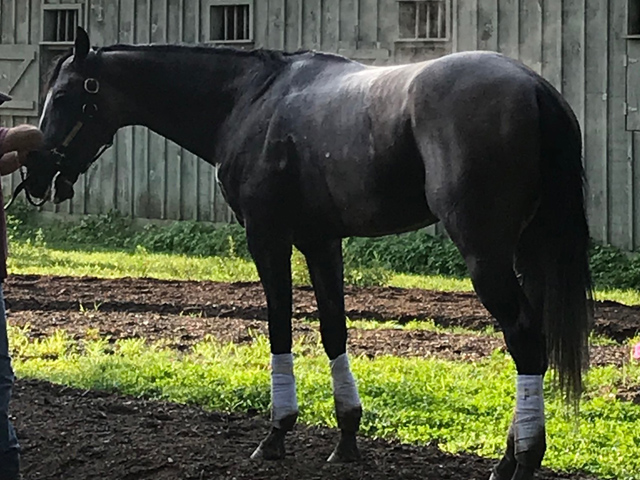 By: Jim Roberts, Rainbow's End Racing Stable LLC
For most, a visit to Saratoga in late August means only one thing, horse racing.  As partners in a small barn, Rainbows End Racing Stable, LLC, arriving with the knowledge that you have two of your horses running the week you are there, redefines excitement.  There is no greater thrill than watching your horse run anywhere, but in Saratoga?  Awesome.  But, almost cooler than the thought of standing in the winner's circle (almost!) is the ability to spend some beautiful quiet time enjoying and learning more about a game that looks so simple, but is more complex than many will ever know.  I had the honor of spending some time Monday with our brilliant, multiple Graded Stakes winning trainer, Tom Morley, and his crew.  Early morning workouts at the Oklahoma training track, on a delightful August morning, provide the backdrop for an amazing experience of learning and appreciation of the real heart of the sport; the trainer, stable staff and of course our amazing athletes.
I made my way over to Oklahoma at 6:15, a little later than I had hoped, but early enough that the brilliant sun was still sitting really low in the southern sky.  My first thought, recreated every time I have the pleasure of spending time at a.m. works, is what a buzz saw of activity there is.  Track workers, trainers, owners, tractor drivers, photographers, outriders, exercise riders, clockers and of course, horses.  Walking, trotting, cantering and galloping everywhere you turn.  Scores of beautiful animals of every size, shape and color cruising around, seemingly chortling as they get to stretch their legs and do what they do best, run.  "Good mornings" are everywhere.  Everybody, including the horses, embrace the start of the day.  They truly love what they do and their passion is palpable.
As I sipped on my coffee, finding the rhythm of the morning, I was thrilled to look up and hear, "Good morning," and to my surprise our fantastic assistant trainer Michelle came trotting by on her way to working out one of Tom's charges.  "Good morning, Michelle," I called back as she drifted down the training track along the outer rail (working horses move counter-clockwise from the inner rail out to the middle of the track; horses moving to get to their starting point move along the outer rail in a clockwise direction).  Outriders, ever vigilant for a horse that may break free, sit like lifeguards around the track.  Minutes later I hear Tom's British voice call out, "Morning Jimmy, how long have you been here?"  "are you coming to the barn? How was your dinner?" he asked.  "Great," I responded. "How was your night?" He answered back: "Long." Grace (his beautiful precocious, nearly 2-year-old daughter) was up quite late. "My six hours of rest wasn't quite 4".  Tom and his beautiful wife Maggie Wolfendale Morley, New York Racing Association's on-air star analyst, work tirelessly at their trade.  Their family and business lives are very closely entwined, but despite the rigor of 12-14 hour days, they find time to share raising little Grace, the center of their lives.
It's amazing to watch the riders handle their mounts so masterfully, controlling the level of effort dictated by the trainers and assistants, demands great skill.  Tom manages the activity of every animal with the care of a doctor monitoring a patient.  This one walks, this one jogs, that one doing an easy gallop, and of course, the breeze, where the horses get to rev their engines and highlight exactly how brilliant they really are.  It is amazing to watch them run.  I have often used the analogy, for baseball fans, of watching batting practice; it looks simple, but there is so much going on.
Tom sat on his mount watching the goings on, but chatting with me all the while.  "I have the coolest office on earth," he beamed.  His observation that all the 9-5ers, who sit before computer monitors in cubicles, can't have it better than he does, certainly resonated to me as I stood in the sunlight this glorious day.  I am certain the cold winters and rainy, miserable days aren't as enjoyable, but it is so clear how much he loves what he does.  "Zinger (our 4 yo colt) will be out in 40 minutes," right after the track crews harrow, or rake, the track.
After the break I return to the training track.  The onlookers are growing in numbers now, it is almost 7:30.  I look up and spy a racing photographer from the Daily Racing Form, taking pictures which we will all be wowed by in some upcoming article.  We chat a little and I proudly boast about our little barn and our runners.  "One of ours will be out soon to work."  As if on cue, I look up and here is Tom, escorting Zinger and his exercise rider out for his morning work.  "That one, I call out," hoping perhaps we could get photos of our boy from the expert.  She calls back, "he's beautiful."  Awesome! We watch Zinger go, "a nice easy gallop" per Tom's direction. He glides around the track, making it look easy to go a mile in minutes; effortless!
As he heads back, we make our way over to the barn ourselves.  Arriving there, the pace of the morning shows no sign of slowing down.  Tom's staff is attentively working with all the horses in his barn.  We are a small operation, but Tom never makes you feel that way.  He makes you feel like you are the owners of Secretariat.  Zinger gets a cool down.  Steam rising off his muscular back as the hot walker starts to move him around the walking ring.  "He needs a blanket" calls Michelle, paying attention to every detail of everything going on.  The exercise rider, Gildile, hustles to jump in and assist, bringing a blanket and helping the walker drape it over our boy.  Gildile comes over and smiles, shakes my hand and says, "he's strong, I like him.  He did well."  All of the staff are so in tune with the equine athletes.  They understand every nuance, movement, reaction, etc. they get from the horses.  It is really impressive.  They are truly professionals.  They don't wear suits, but they are every bit professionals and have my total respect.
We get a chance to say good morning to our other boy, Regalian, standing quietly watching, with apparent approval, the bustle of the day.  He worked earlier.  Michelle is orchestrating operations as they move this horse in, that one out, never a wasted moment.  Tom comes over on a golf cart and says, "get in, let's go train some horses".  Awesome.  Who takes the time to treat a small owner like that?  We jump in and off we go, Tom teaching the whole way, but never passing a soul without a hello.  "Hey Ray, (trainer Ray Handal) how is Holly?" inquiring about the status and health of an exercise rider that had a recent mishap.  There is a collegiality among the racing world unlike any I have seen in any other industry.  They are all like a big family.  We ride on.  Most times I am in a golf cart I am searching for a ball in the woods, but not this morning.
As we ride, Tom shares his view of the significance of weight handicaps.  I can't share it here, because I need some edge at the window, but I chalk it up as another lesson learned.  "How much does the average thoroughbred weigh?" I ask. "A ton," Tom responds.  I snap my head around and cry, "no way".  "They don't weigh 2000 pounds."  In my cubicle life after all, I am a professional engineer, so I know what a ton is.  Tom looks puzzled by my reaction, till we figure out that he is citing a tonne, the British version of roughly 1000 kilograms, or about ½ an American ton.  We laugh, another lesson learned.
Next stop, the practice starting gate, where he is going to "school" a very special 2 yo student.  I have seen this lesson many times before, but today I learned so much.  Tom greets the assistant starters that work the gate, all by name, and gives the rider instructions.  He goes down the scouting report on the colt's behavior.  The lead starter explains he worked with the colt the other day.  They all have amazing memories.  Tom shares that the starting crews have notes and "reports" on all the horses so that they know how to handle them at the gate on race day.  That really knocked me over.  The details of what goes on are unbelievable and they all do it effortlessly.  The student stood quietly in the gate, walked out, and both the rider and the starting crew declared success.
We take a break and return with some additional partners just after 10 to see the horses one more time.  More lessons.  Michelle is leading the operation, "Tom will be right back", as the crew executes her direction.  Feedings there, foot care here, and the funniest of the day, when she explains how she placed a ball of hay between two rambunctious 2 yo colts.  "Boys will be boys she laughs, I am making sure they don't bite each other".  It is really impressive to see how hard the whole team works, all the while smiling and being respectful to anybody they pass.  Their day is 6 hours old and they have another 6 or more ahead.  I am ready for a nap.
I look up and here comes the real star of the Morley camp, princess Grace arriving with mom and dad to ride her pony.  Priceless.  Grace pats her head as Maggie scurries to get Grace Morley's racing helmet.  Watching mom teach Grace how to ride reminded me of teaching our kids how to ride a bike, only the bikes weren't live animals.  We watch for a couple of minutes, so warmed by the way this racing family bonds over every piece of their day.  "I have to get her off for a nap", Maggie says, knowing that she herself is going to have to go get ready for her day in the paddock sharing her insight and expertise with all the handicappers.
One last lesson for us.  Michelle calls out, "Zinger is going to school, you want to come watch?"  School, or paddock training, allows the trainers to get the horses comfortable with the surroundings in the paddock where they will be saddled for the races.  We jump in another golf cart and make our way about a mile across the street to the Saratoga paddock.  Along the way, Michelle is now the professor, answering every question and sharing openly her passion for her career.  We learn how she got involved and much more about horses we never understood.  Arriving at the paddock, here comes Zinger with his groom.  Michelle directs the groom and Zinger gets paraded around the paddock with a number of his friends from other barns.  Next, he moves to the stall area where he is mock saddled.  Zinger heads home to his barn to prepare for his race in two days.  Michelle has another 6-7 hours of hard work ahead.
For our part, we walk the short trip back to our rented apartment to prepare for our day at the races.  As we walk we can't help but marvel at the level of commitment, effort, selflessness, loyalty and passion that we have witnessed all morning.  They do this EVERY day.  Wow.  So, the next time you watch a race, most lasting no more than a minute or two, recall all the lessons that we learned today and know that there is so much more that goes into getting a horse to the starting gate and appreciate all the behind the scenes work you never knew about.  Every time we think we know something, we are amazed to learn so much more.  Thanks Tom, to you and your crew.  An amazing day with an amazing team.