The First Blast of Winter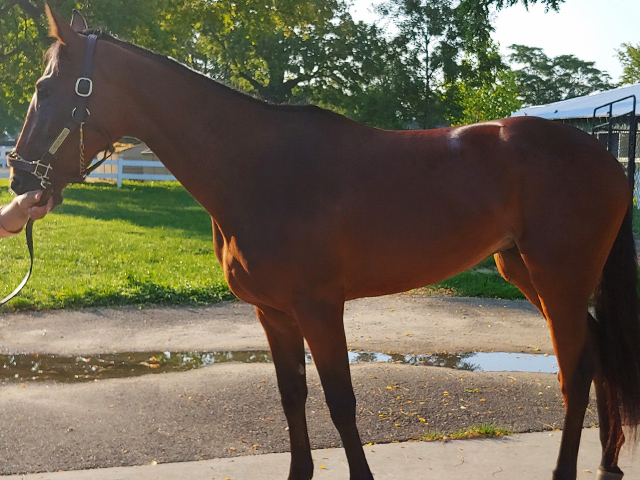 Temperatures have started to drop and our tack has once again moved to Aqueduct for the meet. Prior to the move, we wrapped up the Belmont meet with a win in an off-the-turf race. Pipes, a horse we claimed in Saratoga and a son of Exchange Rate and Introvert (by Smarty Jones), won on October 16 by 2 ¼ lengths with Manny Franco up. Since then we have started to turn out a lot of our grass horses: Bid You Adieu and Xanthique have both gone on vacation as well as a couple of the two-year-olds. Among those, Bella Rose recently broke her maiden at Aqueduct going a mile and a sixteenth on November 8. She is a two-year-old filly who Conor Foley of Oracle Bloodstock bought for SLOJAG Racing at the Saratoga Sale for NY-breds last year and a filly who is a leggy, immature type who showed a lot of ability in the morning. We ran her once in a dirt race at Belmont but she simply wasn't ready for that, and like some first-timers sometimes do, she got everything wrong on race day. She didn't behave particularly well in the paddock, she didn't behave great with the pony, she was slow going away and she didn't appreciate the dirt being kicked in her face. Bella Rose's dam, Russian Rosie (IRE), was a very successful two-turn grass horse and being by Bellamy Road, who is not a great turf influencer, I decided to start her on dirt. That first start didn't go quite as I had hoped, however, when we moved to the turf, she was very impressive and got everything right. She shipped over to Aqueduct well, she behaved well in the paddock, she warmed up nicely, she relaxed well for Manny Franco during the race and at the quarter pole it was simply a question of whether or not she was going to get a gap to get out of the pocket. If she did, I felt very confident she would go on to win the race, which she did by a nose. The end result was actually better than I had anticipated as she was stuck in a pocket for a long time and moved fast late to get the job done. She's now gone to Dutchess Views Farm for a winter holiday and I expect her to come back even better as a three-year-old. She's a big filly who needs to fill out a bit more. I predict she will do that during her winter break.
We've had a couple of unlucky trips on the inner turf at Aqueduct, which can happen with it being such a tight course. Sometimes, if your horse finds himself behind horses with horses on the outside, it's very difficult to angle out and get a break at that point during the race. Impazible Odds found himself in that predicament when he ran on November 3; he was on the bridle, having not really had a race, and finished sixth. Obviously now with the weather turning it's hit or miss whether we get on the turf for the rest of the month. There are turf races scheduled into December, but as long as the weather is dry, the turf seems to remain quite firm. It's very enjoyable having two turf tracks with brand new draining systems. Any moisture that does get in seems to dry up pretty quickly.
Some of the babies are starting to shape up now. Remoane, a filly by Karakontie (JPN) who has trained very nicely for us since she got in, looks to be an exciting prospect for next year, as well as an Afleet Alex filly called A Fleeting Glance, who looks like she may be OK, too.
The end of November will bring the baptism of my godson, Lockhart Ryan, in New Orleans, where Maggie, Grace and I will be headed down to celebrate it along with Grace's birthday, both on November 30. Following that, early in December we will be taking a trip to England to see my parents as it will be the last time Maggie is allowed to do a long-haul flight before the arrival of our second child at the end of January. That's it for now. Happy Thanksgiving!
Picture: Bella Rose