Farewell Saratoga, Hello Keeneland and Belmont!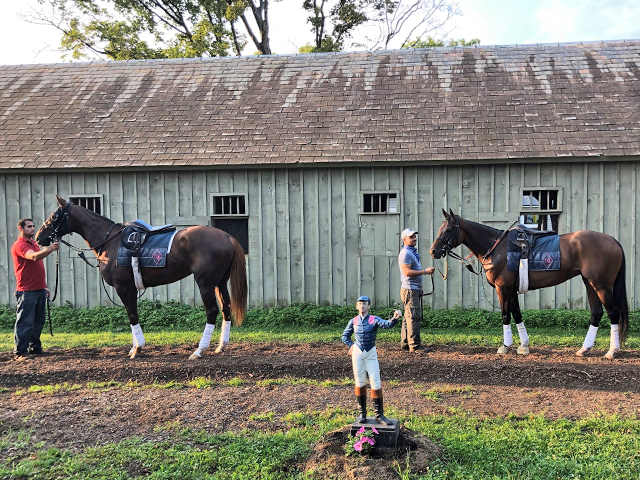 Once sale season at Saratoga is over, the second half of the meet becomes hyper competitive and our barn concentrates hard on getting our horses to the track for their races in the best form possible. Travers weekend led to a monstrous effort from our superstar NY-bred La Moneda when she won the Yaddo Stakes (watch replay) doing something that no other horse all weekend managed to do, which was close on a turf course that became very speed favouring as it dried out through Travers weekend. We saw a number of horses upset big races on the front end and it looked like there was a possibility of the same thing happening. La Moneda and Fifty Five, of Chad Browns barn, slowly wore down Philip Serpe's filly on the front end to get there just in the nick of time under what was a beautifully judged ride by Junior Alvarado. Junior got off and said to me, 'Tom listen, I had two horses that I had to beat, not just the one in front of me, but I needed to make sure that I timed my run perfectly so that Javier Castellano on Fifty Five couldn't get to us before the line.' His judgment of the ride was to a T as he held off Fifty Five by a neck.
I always find that it's a slightly worrying state of affairs when a jockey rides another horse in the race and knows your horse as well as Javier Castellano knows La Moneda. However, Junior Alvarado had given her an outstanding ride at Belmont and was a very able deputy for us in the Yaddo when Javier's association with Chad Brown meant he had his hands full. It didn't matter though. La Moneda, for the first time this year, had to dig very, very deep and I was extremely impressed with how gritty she was in the last hundred yards, she really had to stick her head out to make sure she got the job done. She's done nothing but improve all year and it's always exciting when you have a horse of her class improve as much as she has as the year's gone on. That was four straight wins (two at Belmont, two at Saratoga,) and she's now earned herself a shot at a graded stakes. Being unbeaten at Belmont on the turf, the Gr.3 Athenia going 1 1/16 miles, seven weeks after the Yaddo, gives La Moneda ample time to get over the gigantic effort she put in at Saratoga. She should be a very fresh and eager filly come race day. We will likely give her the winter off and bring her back as a six-year-old (she only started racing at four) and, with further improvement, she will hopefully become a Grade One caliber filly at a mile. I always maintained that she would be better this year, but I didn't realize how fast she would improve. If she continues to improve in this manner, I genuinely believe she is not far from becoming a Group One filly.
Having turned the page on another Saratoga meet, I cannot thank my team enough for one hell of an effort up there. My assistant Michelle as well as my assistants Nick and Aaron have all played their part in a very successful meet. We've won dirt races, turf races, stakes and a Grade One at Arlington. I think when I made this drive in the other direction heading north in July, if somebody would have told me that all of this was likely to happen I would have very happily taken it.
Moving on to Carrick, quickly; he's been fairly quiet since his win at Arlington. It has been decided that he will point towards the Gr.1 Joe Hirsch Turf Classic at Belmont. Going against older horses at 1 ½ miles may seem like a strange option to some people, with the Gr.2 Hill Prince against straight three-year-olds being another viable option. But, if you're a believer in handicaps like I am, Carrick has run faster than the older horses twice now and will receive weight from most of them in the Joe Hirsch, where as being a Grade One winner running against his own age group he would have to give the field weight in the Hill Prince. Talk of Catholic Boy prepping for the Breeders' Cup Classic in the Hill Prince also means a showdown, and that, to me, doesn't seem like a logical spot, especially since I think the added distance of the Joe Hirsch will suit Carrick even more.
There isn't an awful lot of time between Saratoga and the yearling sale, so the couple of days we get at home are typically spent doing laundry and packing fresh bags before driving over to Maryland to spend some time with the division at Laurel and continuing the drive to Keeneland for the sale. Maryland proved a little bit frustrating this summer with a lot of runner-up efforts, but we will continue to bang our heads against the door until we knock our way through.
The Keeneland yearling sale – 14 sessions of selling yearlings, 7 catalogs – it's a monstrous part of the year where an enormous amount of recruiting of young horses goes on. This is the NFL draft for us, and we will try to get as many high-quality horses as possible into our barn for next year. It's a lot to handle after Saratoga, but the couple of days at home have certainly helped. As ever, I am very much looking forward to staying with great friends Conor Foley and his wife Jenny, who are both unbelievably hospitable for putting me up through the whole yearling sale.
Keeneland will be a lot of work, but the biggest challenge of my year so far lies in the Real Rider Cup on September 23 at Plantation Fields in Northern Pennsylvania, where I will compete on one of four teams in a timed show-jumping competition. There will be exercise riders, TV analysts and trainers, and the reason why I say it will be the biggest challenge of my year is because Maggie will be riding on the TV Analyst team and I will be riding on the Trainers' team. The rules of the Real Rider Cup are that you must ride an off-track thoroughbred who has competed in at least one race. I am yet to meet my mount, though I have seen pictures of him and he looks like quite a trusty steed. Maggie will be taking our very own Yeager up to Plantation Fields and that fills me with confidence that we will be able to beat her. Yeager has had a long Saratoga meet working both mornings and afternoons and I'm not quite sure how his jumping will be.
Last year the Real Rider Cup was an enormous success and I want to take a moment to thank both mine and Maggie's sponsors, Robert Masiello (sponsoring me) and West Point Thoroughbreds (sponsoring Maggie). Several of our other owners have donated to this amazing cause; I know that both Rainbow's End and Donegal Racing have made significant contributions as well as many of their partners. This event is a wonderful effort put together by Anita Motion and her team and I am immensely proud to be taking part in it this year, the only problem is that if you lose you're not allowed to do it again next year and that will sit very sorely with me for some time. With that said, I need to make sure that I beat Maggie. In the meantime, it's time to kick on at Belmont where the turf has had a wonderful summer of recovery. I'm looking forward to picking up with some of the more backward two-year-olds such as Mr. Mike (a son of Candy Ride) and some of the older horses coming back in from setbacks such as Westerdale. Many have been in light training at Belmont for that last few weeks.
For now, enjoy the rest of your summer and we'll catch up after the Real Rider Cup!
Hit the link to learn more about the Real Rider Cup and to donate: www.plantationfieldinternational.com
Learn more about Maggie and Yeager HERE
Learn more about Tom and Target Sighted HERE