Cross-Country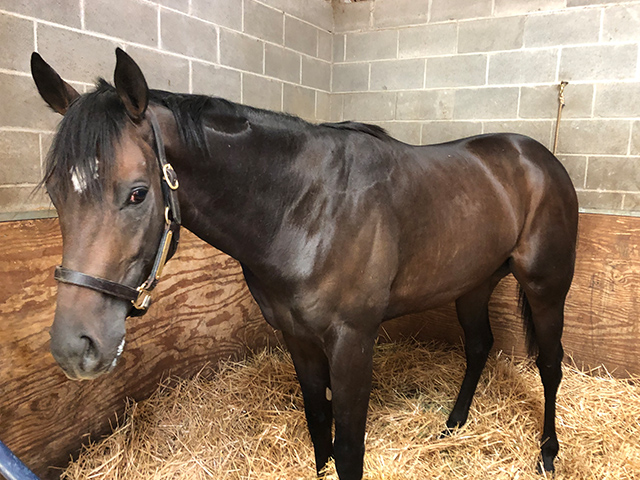 My uncle always said to me you can have the best horse at the best weight in the best physical shape for a contest over the best trip, but there is one thing you can do nothing about and that is the weather. This fall has been extremely difficult for our team with numerous live horses being scratched due to circumstances presented by mother nature.  
The start of November saw things pick up and we had a couple of near misses in New York on Breeders' Cup weekend when both Imapzible Odds and Corot were beaten in back-to-back races by a head. I was very pleased to see Corot bounce back in his first race at the Fair Grounds just 22 days after his runner-up effort; he put forth a cracking effort despite hectic travel (he left New York Sunday, arrived in Kentucky on Monday and got to NOLA on Wednesday). He carried on to win that same Saturday and won very comfortably by 2 ½ lengths. He is a lightly raced 3-year-old by Pioneerof the Nile and was purchased by Robert Masiello and West Point Thoroughbreds, who later incorporated Nexus Racing Club into the partnership. Nexus is a tremendous racing syndicate developed by Sam Bussanich with a view to develop and engage young people in the field of racehorse ownership and I am thrilled to see them have early success with this colt. Prior to his win, Corot had a couple of unlucky starts; the first time I got him wrong and ran him a mile at Saratoga and he didn't stay, and then his next race came off the turf. When he finally got to do what I thought he wanted, which is sprint on the turf, he showed massive effort for a 3-year-old taking on a very seasoned, older turf sprinter. We is now enjoying a much-deserved break. 
Our first batch of horses arrived at the Fair Grounds for opening weekend and I went down there myself to watch Ninety One Assault run a very unlucky third in the Mr. Sulu Stakes under possibly a surprisingly slow pace. He was too far back in the race to do what was needed, but finished with some serious gumption, galloping out in front of the other horses. 
It was, however, great to get off the mark early in the meet with Ian Glass, a very well-bred son of Hard Spun for Donegal Racing. Ian has done nothing wrong all year, apart from being entered in a race every time it was going to rain (certainly not his fault). Considering how many times this horse has had to be scratched due to foul weather, he ran a very encouraging third in early October and he then capitalized on that effort at the Fair Grounds, showing good early speed and an abundance of stamina to break his maiden by a head on November 17. He is a colt I like enormously and hope will go on to do much better things as a 3-year-old. The goal is to send him out in a two-turn turf race next and then evaluate whether or not he is ready to take on graded stakes company. 
La Moneda caught a very unlucky period in New York with two brutally cold days and was frozen off the turf. She is now enjoying a much warmer climate down in Florida at Palm Meadows, where she will aim towards a Grade Three on the 15th of December going a mile at Gulfstream Park before going on her winter holiday and come back to target stake racing in New York next year. 
In an attempt to escape the horrid winter weather, Carrick took a trip to southern California to run in the Gr.1 Hollywood Derby. Unfortunately, the rain followed him there and the conditions mixed with a poorly executed ride resulted in a fifth place finish which was excruciatingly disappointing to see. The good news is he came out of the race in good order and is back in training with our string at the Fair Grounds. Many thanks to Nick Esler for traveling with, riding and taking care of Carrick.  
Some other interesting runners during the month of December will be Teodoro, a recent recruit from Europe who will point towards the Buddy Dilberto Memorial Stakes just after Christmas at the Fair Grounds; and Queen of Connaught, who will point towards the Pago Hop (a Listed Stakes for 3yo fillies) at the Fair Grounds; and veteran war horse and millionaire Cooptado, who looks to defend his title in the Tenacious Stakes on December 22, also at the Fair Grounds . Between Gulfstream Park, Aqueduct and Fair Grounds we will have plenty of action to close out the year.  
Grace, Maggie and I will be heading to England to spend some time with my family over the Christmas period and I look forward to updating you all when we return. For now, I want to wish you all safe travels and the happiest of holidays.
Photo: Ian Glass in his stall, not too pleased about getting his photo taken by the Team Morley paparazzo