Closing Out 2020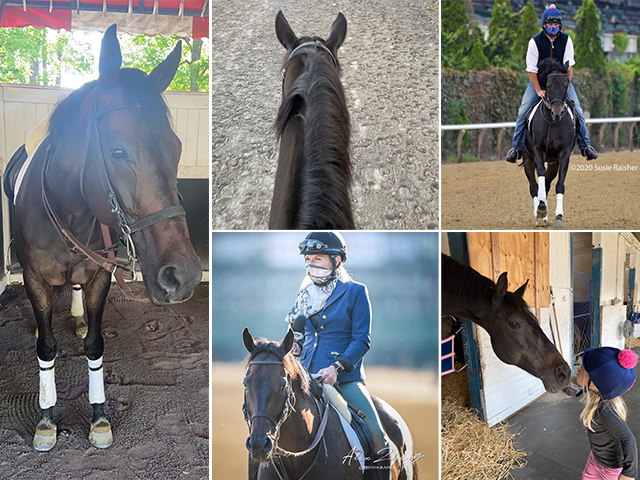 With turf season coming to an end in New York, we moved 10 horses down to Fair Grounds Race Course and are set for a relatively busy December. I was very pleased to see Joqular run first time on the turf down here on December 5; she ran an excellent third in an Allowance race. For a moment she looked like she might win at the eighth pole, but just got ran out of it late and beat by two lengths. Very often when horses switch surface, they have to learn about the different racing dynamics; I expect this filly to improve again having had a start on the grass now. All being well, she will point to the same race on New Year's Eve at the Fair Grounds.
A couple of days earlier, Special Assistant finally got to run on turf at the Fair Grounds as well. She ran an excellent third in a Maiden Special Weight on December 3, beat by four lengths after not having raced for a month and a half. I'm expecting to see this filly move forward and will be happy to see her get back on the turf again in January.
We've had quite a few runners since the last time we blogged. It was great to see McErin win on the dirt for Rainbow's End Racing on November 20. We had six runners that same day with Cashmere Queen finishing second in a Maiden for the same owners.
All the horses seemed to have shipped down to the Fair Grounds in good order. Duncastle arrived on the back of a win in New York – it's always nice when a horse manages to string together a number of victories and wins his last two races with improved Beyer Speed Figures, he actually cracked the mark of 90 on his last at Aqueduct. He was entered in an Allowance Optional Claiming race at the Fair Grounds on December 11 and finished sixth. I'm hoping that, as the meet goes on, he will find his form to run as well as he did last winter.
December 12 was a very exciting and emotional day as Ninety One Assault ran and won his second, back-to-back, Louisiana Champions Day Turf Stakes race. I was just absolutely thrilled for so many reasons to see him return to his beloved Fair Grounds and defend his crown. To bring a horse back year-after-year for a target race is a challenge as a trainer, and this wonderful son of Artie Schiller is the best turf horse in the state. Add in the sentimental value he holds in my heart and the victory was exponentially more special. As many of you know, Tommy Lee Edwards passed away in July after a long and hard-fought battle with cancer. Tommy was Ninety's groom and shared a bond with him that I will never forget. He stood in the winner's circle with Ninety three times, including the Louisiana Champions Day Turf Stakes of 2019. Though Tommy could not be with us in the winner's circle this year, I'm certain he was looking down on us from heaven, smiling and celebrating with immense pride. That victory was for you, old friend. We miss you.
It's been a strange year this year in terms of the numbers, we're going to have significantly fewer starters than we did in 2019. I think that 2020 has been a year, as it has been for a lot of people, about survival and trying to keep the business going. I want to say a massive thank you to all of our clients for seeing us through the difficult period in the middle of the year when there was no live racing, it certainly helped my staff that a lot of our horses remained in training, which meant we didn't have to lay anybody off. So, again, a huge thank you to our clients. I am forever grateful.
Some sad news to add to this blog as our beloved Yeager has crossed the rainbow bridge. It's not often one horse can fulfill so many roles, but Yeager was that horse for us. He ran races in England and New York and won on both dirt and turf, and when he could no longer do that, he became my trusty steed, traveling with me from track to track, carrying me set after set. He carried Maggie aside many winners and champions on FOX Sports across the NYRA circuit, was the first horse Grace rode, and he even competed in The Real Rider Cup for charity.
Though he was a strong horse, his weakness was always his tummy, and this time the colic was just too much. Surrounded by loved ones (thank you to Axelle and Glielia for being by his side), he was laid to rest. Yeager was a part of our family and it pains us immensely to have lost him; but our hearts are at peace knowing he is now galloping free in the green meadows of heaven. RIP, Yeager. We will miss you tremendously. But we will cherish all of our memories of you and keep them lovingly in our hearts.
Maggie, the girls, and I are currently in England and will be here to spend Christmas with my parents and the rest of the family – this is the very first time any of them have met Willow. We will be back in the States towards the end of December and I look forward to blogging again in January to catch everyone up on the holiday festivities. We have several horses running prior to the new year; I will share how they fared next month. For now, I wish you all the happiest of holidays.
Pictured: our happy memories of Yeager