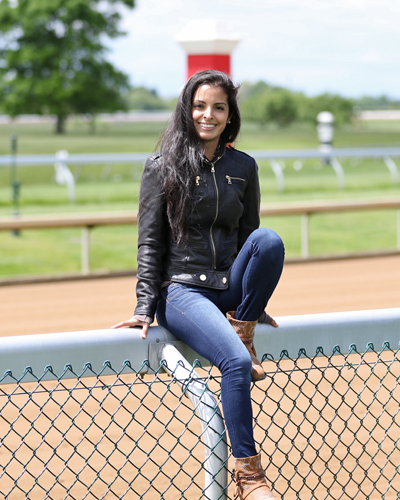 Combining passion and creativity to promote the sport of horse racing, Claudia handles marketing and media for Tom Morley Racing. She's an avid equestrian with nearly two decades of experience in the saddle and has been a horse owner for ten years. Fun fact: You would never guess it from striking up a conversation with her, but she is relatively new to racing.
In 2014, after a major business project came to a dead-end, Claudia struggled to find her footing. She turned her attention to the Kentucky Derby that year, and that's when everything changed. A flashy chestnut colt with striking white features, California Chrome was a catalyst in disguise. His story and heart sparked her interest and inspired her to get more involved in the sport.
Since then, Claudia has dedicated the last two and a half years to racing, spearheading EverythingEQ.com, a media outlet for equestrian sports, and Thoroughbred Today Magazine, a publication that shines new light on racing and is geared towards fans. Through her efforts, she works closely with some of the biggest organizations in the equine industry, helping to bridge the gap between racing and the sport-horse worlds.
At the track, you're bound to run into her on the backside, conversing with some of the sport's brightest stars. Otherwise, this Peruvian-bred, Canadian-raised filly is home in Florida, spending quality time with Charlie and Buttercup (her dog and chestnut mare).
Laying down the roots to become a leader in our sport, Claudia brings a plethora of knowledge and skill, dedication and vision to help guide Team Morley into a new era of horse racing.