Back in New York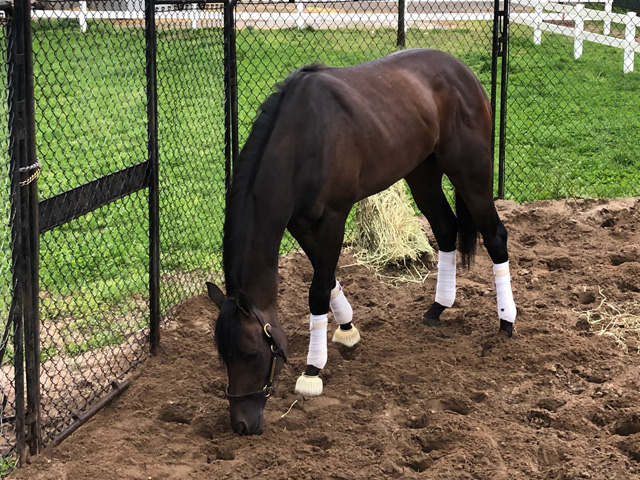 It's nice to be home in New York again. Maggie's back at work, Grace is back in school at the Anna House, and the horses are all under one roof at Belmont Park.
We had a solid end to the Aqueduct spring meet where Oh My Papa ran a very good second in an allowance race on Wood Memorial day, in only his second career start. He's a 3-year-old colt owned by Tom Priola and definitely one to look forward to for the coming year. With no dirt races available and with lots of turf in his pedigree, he was entered in a 7-furlong allowance at Belmont on May 4 and finished fifth.
On April 17, Psychic Energy broke the track record at Aqueduct going six furlongs on the turf in 1:07.69 under a very aggressive ride by Javier Castellano, who jumped the horse out from the inside post position and wired the field going very fast fractions. He's a solid New York-bred gelding who loves the Aqueduct turf. He had a tough winter down at the Fair Grounds going 5 ½ furlongs with plenty of traffic problems in those races, especially at the break, but he got away clean this time around and was very impressive in his victory.
Determined One and Compagno ran on the grass at Aqueduct on April 19, finishing eighth and fifth. La Moneda made her comeback in the $100,000 Dahila Stakes on April 20 at Laurel, finishing second. Though she ended up getting nosed out at the wire, her performance was everything I wanted to see following her winter vacation. She battled it out with Graham Motion-trained filly Secret Message and was very game in her effort.
Following Easter weekend, I flew down to Ocala to concentrate on the OBS April sale, looking to pick up some more two-year-olds. It's always an exciting time of year when young horses arrive at our barn. We currently have a handful of two-year-olds looking to join us at Belmont in the coming weeks; I visited many of them in Ocala back in March and was very pleased with how they were coming along. They are a slightly more backwards group than previous years but are bred to be that way, and there are several with two turn pedigrees I'm hoping will become nice three-year-olds.
Miss Leah Angel (GB) unfortunately got rained off the turf when she looked like she had a very good opportunity at Keeneland back in April. I am hoping to find a race for her in the coming weeks.
I was happy to close out the month of April with a gate-to-wire victory courtesy of Ian Glass. Many thanks to my team for the great care and effort that was put into getting the colt to Laurel; he ran a very good race with Sheldon Russell in the irons, finishing 2 ¾ lengths in front, in very good time (1:34.27). Congratulations to owners Donegal Racing on the win – this was the colt's second win since his career debut in August of 2018.
A few of our horses ran at Belmont Park and one at Churchill Downs this past weekend. Donegal Racing's Distorted Humor colt Tony Small made his second career start at Churchill in a $100,000 maiden special weight just two races after what is now arguably the most controversial Kentucky Derby in history – and, no, I'm not going to get into that right now. The colt finished fourth in race 14, a 1 1/8 mile contest on the dirt. At Belmont Park on Saturday we had 3 runners: Oh My Papa, who I mentioned at the start; Deputy Flag, who finished sixth in race 8; and Zinger, who ran fourth in race 7.
A few weeks ago I went home to England for a few days to see my mum and dad; it was lovely to spend some time with them and the rest of my family. My next visit to England will be for Royal Ascot, which I'm very much looking forward to coming up in June.
Stay tuned for another update later this month!
Pictured: Ian Glass following his dominating allowance win at Laurel Park