2018 Breeders' Cup Adventure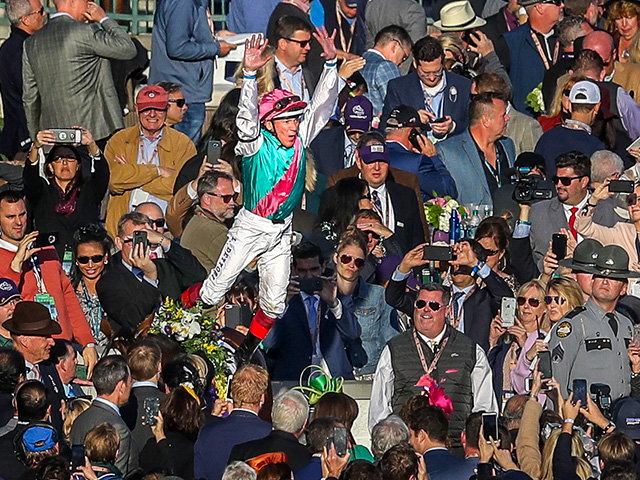 It's been a bit since my last blog as we've been quite busy moving our horses around and getting settled for the winter months. Earlier this month, I was fortunate to get the chance to attend the Breeders' Cup as a spectator and I wanted to take this moment to share the experience with you. Horse Racing Radio Network employed Maggie for the weekend of the Breeders' Cup and so I went along and was left on my own in Louisville at Churchill Downs to do as much networking as possible during the two days of championship races. Foul weather caused havoc to the Churchill Downs as loads of rain came down and inundated the track earlier in the week presenting less than ideal conditions for many horses working over the grass and dirt. Thankfully, Churchill's track management team did a phenomenal job of making sure the tracks were ready to go and in the best shape possible in time for the two days of world class racing. Certainly, some of the grass horses were hindered by the softer going, but at the same time there was also some unbelievably good performances, and the true superstars were unaffected by the grounds. It would be unfair to a lot of horses to mention those that I felt put on the best performances, however, I must say that Newspaperofrecord is an exemplary filly and she absolutely pulverized a solid field of Juvenile Turf fillies.
Obviously, an enormous part of me going to Churchill was to get the chance to see Enable in person for the very first time. While not the most imposing filly in the world (probably the most imposing thing about her is her ears), she put up the most sparkling performance despite Frankie Dettori stating that she could not have been less comfortable on the surface and was slipping and sliding over it. The fact that she won on such short rest after a repeat win in the Arc made watching her extremely special.
I was pleased to do the Donegal handicapping forum alongside Jerry Crawford on Breeders' Cup Saturday and was happy to be able to give them a couple of winners and better priced horses that I thought would run very well. One of those was Magical, a three-year-old filly coming off three races in 26 days. To do what she did and run Enable to a length, it was a tremendous effort and a real testament to the fact that Coolmore has always been right about how good this filly really is. She just really rellished the conditions as well.
I cannot express how delighted I was to see Mr. Sadler win the Breeders' Cup Classic with Accelerate. Training horses is hard enough. Training horses to get to the Breeders' Cup is incredibly difficult. To win one is an absolute privilege. The fact that he finally did and that he got it in the big one is a big deal to those of us who train horses for a living. I hated seeing trainers criticizing him for not having won in however many starts. Mr. Sadler has done the most remarkable job with some wonderful horses over the years, so to castigate him for his Breeders' Cup record was quite ludicrous in my mind.
There were a few other star performances on World Championships weekend. I think that Peter Miller deserves an enormous amount of recognition for what he managed: to win back-to-back Breeders' Cup races, and not one but two of them two years in a row with the same two horses is an astonishing training feat. Hats off to Mr. Miller! I also thought Jaywalk was very impressive winning the Juvenile Fillies. Frankie Dettori going out there, galloping horses victoriously and then still having it in his legs to jump off horses in the winner's circle the way that he always does is impressive. He's been to some extraordinary places in his career and has had some pretty dark moments, too. To still be riding as well as he is all over the world is speaks volumes of the man that he is. Overall, a lot of great moments to look back on.
For those of you wondering whether Grace made the Breeders' Cup trip: she did not. Instead, she stayed behind with her granny and George while her mum and I were away. For goodness sake, she's only one! I had to wait until I was 31 to go to my first Breeders' Cup! THIRTY-ONE!!! Her time will come.